The Xbox Series S Is More Than Enough Console for Most People
There's a lot to love about Microsoft's other new console, starting with the price.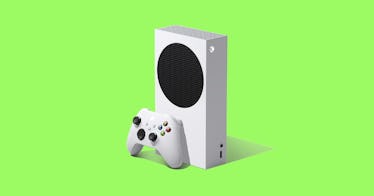 You've probably heard by now that there's a new Xbox, but that's only half of the story: There are actually two new Xboxes — the Series X, a black monolith straight out of 2001: A Space Odyssey that retails for $499, and the Series S, a smaller, friendlier white box with a smaller, friendlier $299 price tag.
Serious gamers will likely opt for the Series X. It has a faster processor, double the storage, a more powerful graphics card that supports 8K video, and a disk drive that can play Blu-Ray discs and Xbox One games. It's the bigger, badder console, but its benefits will be lost on people who don't have huge libraries of games on disk and state-of-the-art TVs.
For those folks, the Series S makes a lot more sense. It's also the more intriguing of the two because, along with the digital-only PS5, it's the first flagship console from the Big 3 (Microsoft, Sony, and Nintendo) to rely solely on digital game distribution.
Ditching the disk drive cuts down on the production cost of the console, as well as the size. And the Series S is surprisingly small, more like a large book than its massive older sibling and Sony-made competitor. Its design is unfussy, a white rectangle with a black, round vent to facilitate circulation that makes it look more like a high-end speaker than a console.
Firing up the Series S reveals a user interface that longtime Xbox fans will recognize, one that feels snappy as you navigate with the controller, an updated model that adds USB-C charging and a "share" button for streaming and screenshotting.
Committing to a digital-only console does mean accepting some trade-offs. The hard drive is just 512 GB and the operating system leaves just 364 GB for games. For reference, Madden NFL 21 takes up 46.8 GB, Assassin's Creed Valhalla 47.1 GB, and Halo 5: Guardians a whopping 97.5 GB.
In other words, it's easy to fill up the hard drive on the Series S quickly. You should anticipate having to delete games to make room for new ones. The large size of games also means that a less than blazing internet connection might take a while to download all those gigs.
But for casual gamers who only play a game or two at a time, it's a minor annoyance, not enough of a reason to splurge on the Series X. So if you're able to track one down this holiday season, the Xbox Series S is a worthy choice for all but the most serious of gamers.
Microsoft provided an Xbox Series S to our editors for review. Every product on Fatherly is independently selected by our editors, writers, and experts. If you click a link on our site and buy something, we may earn an affiliate commission.