These Wool Shoes Are So Comfortable You'll Never Want to Take Them Off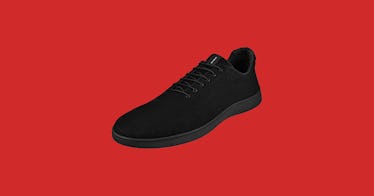 Wool shoes and wool sneakers are decidedly on trend. That's because wool is a wonderful material in which to put your feet. Wool is soft and warm in the winter and it keeps feet from getting stinky and hot in the summer. But that doesn't mean that all wool shoes are made equal. And in the wool shoe game, Baabuk shoes stand out for their softness, durability and, above all, damn stylish design.
I am admittedly a wool sneaker fan. My go-to walking shoes are Allbirds runners. I wear them for all the reasons I love wool shoes: They are light, pliable, washable, durable and keep my feet super comfy. But if I'm honest, the Allbirds sneaker design is understated to the edge of ugly. These are the shoes I'll happy pop on to hit the trails, but I'm not wearing them when I'm looking to stand out. That's where Babuuk comes in.
Baabuk was founded in Europe about three years ago by an enterprising young couple inspired by the history of hefty Russain wool boots. Their first product was a chunky, boot-like slipper with a Northern European, Scandinavian vibe. A few Kickstarter campaigns later and the company was operating full tilt, expanding to a wider variety of shoes for a diversity of occasions.
Babuuk still makes their signature slippers, but they've branched out into sneakers and boots too. My favorite is their two-tone sky wooler collection. The high top design makes the shoes look a bit like wool chukka boots rather than sneakers, and like chukkas the uppers rise to just over ankle height. The two-tone color selections — grey on grey, orange on cream and indigo on light blue — are split front and back along an angle at the midsole. The pattern makes the kicks look a bit like stripped down saddle shoes. The design is clean, contemporary and totally unique.
Along with the sky woolers, Babuuk has some finely understated boots for cold weather slogging, and low top sneakers that come in earthy colors. Their newest limited-edition design is made from the wool of Swiss heritage black-nose sheep (considered the "cutest sheep in the world") and rock a rubberized "black nose" at the toe.
All of Baabuks kicks are lined with a super soft felted merino wool and come with wool insoles. They also arrive with elastic laces, making them simple to slip on. And after a few months of wearing my sky woolers, the laces still provide a just-right fit — not too tight and not too loose.
But aside from design, Baabuk shoes are simply and ethical choice in footwear. They are crafted of a sustainable materials, purchased at fair prices from Portugese flocks that live peacefully in the country's largest protected natural area. Babuuk also uses a manufacturing process that relies on antique machines which it the company has kept in use, and the employees manufacturing their shoes earn 25-percent more than average employees in the area.
Baabuk's thoughtful practices have earned the company a B-Corp certification from the non-profit B-Lab, which only certifies a company after they've meet rigorous social and sustainability requirements. Baabuk is one of 3,000 B Corp certified businesses in 60 countries covering 150 different industries.
And in the end, that's what makes Baabuk's shoes more than simply the most stylish option in the all-wool game. Not only do they look good on your feet, you can rest easy knowing every step you take in Baabuk kicks has less impact on the earth and more impact on the communities that make them. That makes "look good, feel good" mean a whole lot more.
Every product on Fatherly is independently selected by our editors, writers, and experts. If you click a link on our site and buy something, we may earn an affiliate commission.
This article was originally published on