Dolls Can Be Creepy and Retrograde. These Are Straight-Up Awesome.
These wooden playthings reflect our diverse society.
by Donna Freydkin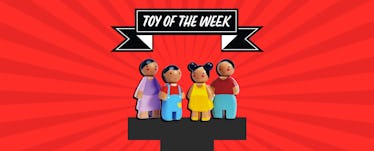 It's tempting to mock the classic dollhouse, as well as the dolls that occupy these pricey dwellings. And it's easy, because traditional dollhouses really go hard on the antiquated gender and princess tropes. They're an explosion of pink, purple, glitter, and spangles. They're generally targeted at girls, and they seem to encourage girls to embrace tired gender roles: That is, while boys yell and shout and roughhouse, proper young girls should always be pulled together and tending to an immaculate home.
But it's time to rethink the dollhouse — because, parents, there's a reason kids love them. First, dollhouses encourage open-ended pretend play, as kids act out things they see adults doing. Making dinner? Check. Sweeping the driveway? Check. Reading bedtime stories? Check. By reenacting scenes from daily life, they can start to make sense of the complicated, sometimes daunting world around them.
Naturally, dolls live in the aforementioned dollhouses. Playing with dolls encourages kids to become nurturers. Yes, we said kids, not girls. Because every child should know how to care for something, how to be responsible for something, and how to make something or someone feel valued and loved. A doll is a safe way to learn and practice those skills.
But here's the thing: Until recently, the majority of dollhouse-sized dolls you could buy your kids looked like something out of an '80s sitcom: Blonde, blue-eyed, and utterly generic. They didn't and don't reflect the diversity of our lives. Enter the wood dolls from Tender Leaf Toys. The dolls are not just beautiful (they absolutely are) but they're also inclusive, from the Black Forrester family and Leaf family to the Doll family. And they're made by a brand that's been at the forefront of sustainable business practices since its inception, with every wooden toy made at a family-run factory in Indonesia.
Another reason we dig these dolls: They don't have blinking eyes, moving mouths, or the ability to defecate on cue. In other words, they're something of a blank canvas, so kids can have them be anything they want. A superhero. A sorcerer. A dog walker. Or just Dad. Plus, they're small enough for preschool hands to manage easily, without any loose parts.
You can buy furniture for these dolls, all at scale and all detailed and gorgeous. Or you can let kids freestyle, using boxes, Legos, and their imaginations. Whatever you choose, we think these dolls are a pretty great addition to any playroom.
Will these dolls change the world, or undo decades upon decades of systemic racism? Not a shot in hell. But are they a good start and a smart choice when you're buying pretend play toys for your kids? Absolutely.
Every product on Fatherly is independently selected by our editors, writers, and experts. If you click a link on our site and buy something, we may earn an affiliate commission.
This article was originally published on