All Our Favorite Gear From the Williams Sonoma Star Wars Collection
Why shouldn't your toaster look like R2-D2?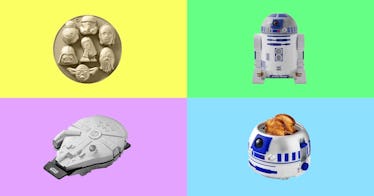 Cooking just got a lot more fun. If you're getting tired of preparing meals, something from the Williams Sonoma Star Wars collection might be the perfect way to bring some joy back to the task. And if you love to cook, and are also a Baby Yoda fan, then these Skywalker-themed cooking gear will make meals that much more fun to prep. Most importantly, though, you'll have a much easier time getting kids to pitch in when the task involves Star Wars characters. This collection includes everything from an R2-D2 popcorn maker to an all-in-one Yoda-themed Instant Pot that can make everything from chili to yogurt.
And unlike a lot of Star Wars merch, these pieces are made with the quality that Williams Sonoma is known for. The cookware is made out of durable materials like stainless steel and cast aluminum to ensure that your intergalactic food will be cooked to perfection. Here are the most fun and practical items we found from the collection, all under $100.
The R2-D2 Toaster
Artoo can help with breakfast if you're still groggy. It works like any other toaster, but its lights and sounds activate as soon as you press the lever, chirping and blinking in a 10-second sequence and projecting holographic light onto the toaster body. Its two wide slots make it easy to toast anything from bagels and English muffins to thicker breads. And a removable crumb tray allows for easy cleaning.
The Death Star Cakelet Pan
The bakers and Jedi lovers in the house will love this one. Seven cakelets are shaped like Yoda, Darth Vader, C-3PO, R2-D2, Chewbacca, a storm trooper, and BB-8. The durable cast aluminum pan distributes heat quickly and evenly so even amateur bakers can rest assured that the detailed cakes will come out of the oven exactly as expected.
The Millennium Falcon Waffle Maker
Somehow, waffles just taste better when they have a fun shape. This waffle maker works like any other, but after pouring in the batter and waiting for the sensor to light up, you'll have a delicious junker-looking Falcon waiting for you underneath the lid. Its "hull" is designed with intricate wells — perfect passageways for any melted butter and syrup you pour on top.
The Star Wars Pop Mold
Six molds come with a pair of every Star Wars fan's favorite characters: Stormtrooper, R2-D2, and Darth Vader. Pour fresh juice or yogurt into the molds, leave in the freezer overnight, and easily slide the pops out of the mold — no warming necessary. Each reusable pop stick also comes with a built-in drip guard, perfect for little kids (and messy eaters).
Star Wars Instant Pot Duo
The only thing that could make an Instant Pot even more lovable is one decorated with a bunch of Baby Yodas. Aside from its design, though, this all-in-one kitchen appliance offers seven functions: pressure cooker, slow cooker, rice cooker, steamer sauté pan, yogurt maker, and warmer.
The Child Ice Molds, Set of 2
Yoda-shaped ice is sure to make any cocktail, or juice for the kids. that much more festive. These silicone molds from Zoku make detailed ice sculptures of everyone's favorite Mandalorian.
The R2-D2 Popcorn Maker
Give family movie night an intergalactic edge with this popcorn maker that looks exactly like the famous Star Wars droid. It looks high-tech, but all you have to to do is pour in the kernels, plug it in, and sit back while it pops. The head doubles as a serving bowl for easy sharing, and it comes with a butter warmer and popcorn scoop.
Every product on Fatherly is independently selected by our editors, writers, and experts. If you click a link on our site and buy something, we may earn an affiliate commission.
This article was originally published on