Why Parents Are So Worried About Yellow, A Snapchat App That's 'Tinder for Kids'
Because they damn well should be.
by Dave Baldwin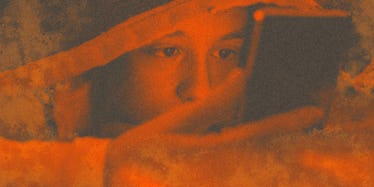 If the thought of a 12-year-old swiping left/right on Tinder freaks you out, then you may want to check your kid's smartphone for Yellow. It's a new app that essentially turns Snapchat into 'Tinder for Teens', and as it grows in popularity across the country, is igniting new fears among parents and law enforcement that it could be co-opted by sexual predators.
RELATED: The Best 12 Spelling & Reading Apps For Teaching Kids To Read Books
Yellow launched last year as "the app to make new friends and chat with them" and claims over six million users. It's downloaded through either iTunes or Google Play using a Snapchat account, and purports to be for kids 17 or older. The rating in the App Store, however, reads 12+ and warns of "crude humor, profanity, and infrequent/mild sexual content and nudity." As many parents have also learned, Yellow uses no age-verification system to prevent either young kids or old creepers from joining.
"Adult predators can sign on and pretend to be minors," says TeenSafe, a subscription service that helps parents monitor their kid's smartphones. "Children younger than 13 can create a profile, and even if they put in their actual age, the profile creation defaults to 13."
To get started, all a person has to do is upload a selfie, enter their name and birthday, and answer a few simple questions: "Are you a boy or girl?; "Are you looking for boys, girls, or both?"; And do you want to meet people nearby? Which, by the way, you can't say no to as the app requires location services be turned on. Fake names and birthdays are fine, and the app is also apparently riddled with broken English, which makes it feel even more skeezy and predatory.
After signing in, kids will start seeing pictures of other totally fun people nearby ⏤ some in various stages of dress ⏤ who want to be 'friends' on Snapchat. Like Tinder, a right swipe is a thumbs up and connects the two to then freely engage in snapping back and forth, or whatever it's called.
Even more troubling is that there appears to be no way for parents to limit the app. "Yellow has me flummoxed," writes Robin Taylor, a writer and mom who tried the app out using a fake name and birthday. "It doesn't have any useable privacy settings. It doesn't have any parental controls."
And those controls are critical, considering a lot of teens are still learning how to recognize dangerous situations. "Children 13, 14, 15 may not have the necessary cognitive skills to know how to keep themselves safe from the predators and the craziness of the world," says Shawn Worthy, a clinical psychologist and professor at Metro State University in Denver.
Which means, unless Google or Apple for some reason decides to take the app down, it's going to be up to parents to be vigilant. "You need to be parents," says Special Agent Vicki Anderson, noting that the FBI is aware of Yellow and has checked it in missing person cases. "Be nosy. You need to know who you're kids are talking to and what information they're putting online."
This article was originally published on