Which Porg Toy Should You Buy Your Kid This Christmas?
There are five factors you have to consider when you're looking for the perfect Porg.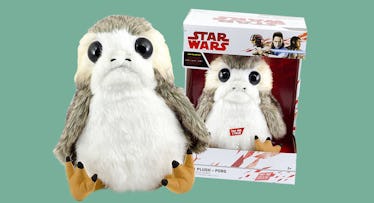 After two years of waiting, The Last Jedi is finally coming to theaters this weekend to make an obscene amount of money — and inspire rabid fandom. While we haven't seen the movie yet, the breakout characters, at least in the eyes of kids, are most certainly the Porgs, the adorable new Star Wars bird-like creatures. It's safe to say you're going to want to get your kid a stuffed Porg this Christmas.
RELATED: Why 'Star Wars' Endures From Generation to Generation
But buying toys ain't what it used to be. It's not as simple as just get a Porg. Now, you have to choose which of the stuffed, squawking Porgs is right for your kid. Fortunately, there's simple criterion that makes searching for the perfect stuffed Porg as easy as bullseye-ing womp rats in your T-16: Price, Accuracy, Adorability, Huggability, and the X-Factor. After careful consideration of each these five factors, I'm prepared to officially endorse the Life-Sized Interactive Action Porg Plush as the only Porg you should even think about buying this year.
Price
You need to find that sweet spot, price-wise. No, you don't want to be one of those suckers who spend hundreds of dollars on something your kid will probably lose in the next year. But you also don't want to cheap out on it either. The Life-Sized Interactive Porg Plush costs $30, which equals quality without breaking the bank.
Accuracy
This one is fairly straightforward but still needs to be said: Does the toy you are about to buy actually look like a Porg? Unlike some lesser imitations, which look like sad science experiments gone wrong, the Life-Sized Interactive Porg Plush unquestionably looks like a Porg.
Adorability
Beyond just resembling a Porg, a worthy imitation also has to be frustratingly cute because Porgs are frustratingly cute. They're so damn adorable people are literally getting Porg tattoos. Unfortunately, a large number of toy Porgs are not nearly as cute as their onscreen counterparts. In fact, some of them look downright frightening. The key is the Porg's eyes, which need to have the same irresistible blend of curiosity and naivete that make you want to take them on adventures all around the galaxy. Fortunately, Life-Sized Interactive Porg Plushes are every bit as lovable as the real thing.
Huggability
Many of you are probably wondering why huggability is a separate category from adorability but the two seemingly interchangeable ideas can sometimes be completely incompatible. Also, we made the list. The Porg bobblehead is arguably the most adorable toy Porg but would you want to hug a bobblehead? Didn't think so. The Life-Size Interactive Porg Plush is every bit as huggable as it is adorable. Your kid will immediately want to hug it and may not let go until something else grabs his or her attention.
The X-Factor
Every great toy has to have that X-factor that puts it over the top. It can't be gimmicky or underwhelming like putting suction cups on a Porg's wings and expecting people to be impressed. As the name implies, The Life-Size Interactive Porg Plush is, in fact, interactive, meaning that with the push of a button, your kid's new favorite toy will spew off different "Porg phrases" which will just sound like adorable jibberish. It also flaps its wings a bit. It's not exactly a game changer but it is a pretty cool feature, especially considering the toy's relatively low price. Another X-Factor: Will this toy drive you insane? Maybe. But it's the holidays, and you hopefully have some noise-canceling instructions.