From Vintage Playboys to Rolling Stone, The Best Gifts Are Old Magazines
Dads like old things. That means vintage, cool magazines from the '70s, '80s and '90s.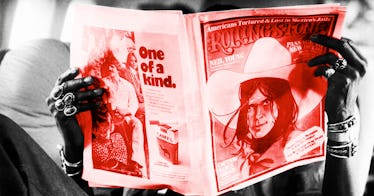 Getty
Remember when our culture revolved around magazines? When a cover on Rolling Stone was the end-all for a band, an outfit in Esquire meant an instant fashion trend or a thoughtful, well-sourced feature in The Atlantic could change the minds of people and policy-makers? The halcyon days of magazines live on, well, in magazines! Cool, curated magazines from the '70s, '80s, and '90s are easy to find, and in their pages, there are worlds worth exploring. We're talking about vintage Playboys with short stories from Hemingway and Kurt Vonnegut. We're talking about back issues of Rolling Stone when it was at its most rock and roll. Vintage Esquires, GQs, Heavy Metal, Outside, National Geographic, Popular Mechanics, Starlog, and Omni.
The old magazines you can find on eBay and Esty are a fantastic type of time travel. If you're stuck on what to get a father for a birthday, Christmas, an anniversary, or any other occasion, we can't recommend slick vintage magazines strong enough. Here's a selection of some great ones from both eBay and Etsy. While Fatherly can't vouch for each individual seller personally on either platform, we personally do use both eBay and Esty a lot to buy cool, old things. Let's buy some magazines!
Every product on Fatherly is independently selected by our editors, writers, and experts. If you click a link on our site and buy something, we may earn an affiliate commission.
This article was originally published on