Watch the Trailer for the First-Ever Harry Potter Mobile Game
'Harry Potter: Hogwarts Mystery' is expected to be released sometime this year.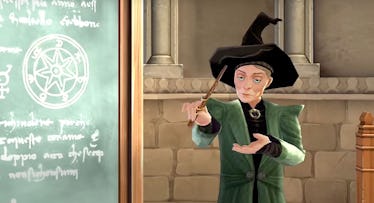 Jam City/Warner Bros
For years, Harry Potter fans have clamored for the beloved book and movie series to make the jump to the gaming world. That dream is finally becoming a reality with the mobile game Harry Potter: Hogwarts Mystery. The game's trailer was released yesterday, giving fans a sneak peek into what to expect.
RELATED: 'Harry Potter' Books Will Make Kids Better People, Study Shows
The biggest reveal from the teaser is the fact that fans will not be playing as the titular Boy Who Lived. Because instead of simply reliving the stories from the books, players will get to create their own character and live out their own Hogwarts adventure — including learning spells, attending classes, getting sorted into one of the houses, and interacting with other Hogwarts students.
The trailer does not feature Harry himself but there are many familiar faces, such as Professor Snape, Professor McGonagall, and Hagrid. Could this mean the game takes place at the same time Harry was at Hogwarts? Or perhaps this is an entirely separate reality where Harry never existed? There are so many questions yet unanswered. Either way, if the trailer is any indication, Hogwarts Mystery will let Potterheads live out their dream of getting that coveted acceptance letter to the greatest Wizarding school in the entire world.
There is currently no release date for Hogwarts Mystery but Potterheads will have the chance to play the highly anticipated game sometime in 2018. The game is being developed by Jam City who partnered with Warner Bros. to bring the wizarding world of Harry Potter into the world of mobile gaming. And for the true die-hard fans, Hogwarts Mystery may not be the only Harry Potter game to be released this year, as the makers of Pokemon GO are currently developing Wizards Unite, an augmented reality mobile game that will also take place in the Harry Potter universe.