Video Review: UPPAbaby G-Link Umbrella Stroller
All the pros and cons before you enter your credit card info.
by Dave Baldwin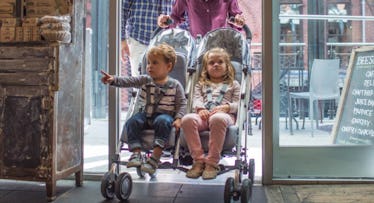 Looking for all of the best baby gear of the year, from jogging strollers to baby carriers? Click here.
Take two UPPAbaby G-Luxes, put them next to each other and viola! The UPPAbaby G-Link. The popular umbrella stroller gets a twin, and it's everything you're imagining right now: Reclining seats for long naps, lockable front wheels for easy steering, and secure 5-point harnesses to keep your toddlers from wiggling free and smacking the hell out of each other. But what do reviewers have to say about the G-Link? Here's a rundown of some of the stroller's strengths and weaknesses from folks who've actually used it.
RELATED: The Best Compact Strollers for Small Apartments
Pros:
Easy to fold, easy to navigate (even better without kids in it), and according to one Amazon reviewer, "Love, love, love that I can recline one seat and put up the netting to create a little bassinet for my infant, while my toddler rides in the other seat."
In fact, many reviews note how roomy the seats are and how deep they recline. Says Baby Gear Lab: "The seat backs recline almost flat and are the best in group for cozy napping."
Your child won't need to wear sunglasses (unless they want to look cool), as the canopy is large compared to the competition. "Umbrella strollers are known for small flimsy canopies," writes Mom's Stroller Reviews. "The G-Link canopy is great. It folds down in front of the child and has a large SPF 50+ pop-out sun visor that will provide your child with better protection than on many full-size strollers."
Cons:
As compact as this thing is, you're not going to be the most popular person in the elevator. And in addition to being unwieldy in tight quarters, users also comment on the weight. "It's super heavy and difficult to fit in small spaces," says BDL, noting that the extra pounds "significantly impacted its overall score."
There's no padding or crotch pad on the harness to protect babies from scratches, writes MSR.
Finally, many a reviewer on Amazon raved about the stroller but with one caveat: the small storage space. "The only area for improvement would be a larger underbasket," writes one. Adds another: "The only problem so far is the storage underneath is very small and hard to access, other than that it's great!"
Specifications:
Weight: 24.5lbs
Weight Capacity: Up to 55lbs
Wheel Type: Solid
Wheel Dimensions: 5.75″
Suspension: None
Brake: Single-action parking brake, Front wheels are lockable
Carrier Adapter: No
One-handed Fold: No