13 Perfect Video Games to Gift to Younger Kids
Want your gifts to arrive before Christmas? Download them.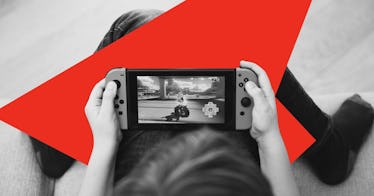 The gloomy forecast about supply chain shortages is all too real. If you're not planning to shop by Black Friday or Cyber Monday (from, ahem, our Very Best New Toys of 2021 list), you're likely to run into some trouble — especially if your kid has a specific toy request. Last minute shopping this year won't look like it has since, well, ever and you're going to have to ask the family to be flexible. Fortunately, it's 2021 and a fantastic video game is but a click away. There's just one thing missing: A package under the tree. That's why we paired each video game here with a toy — a small, easily obtained accessory — you can give as an appetizer to the main course. Keep in mind downloading a game isn't instantaneous, so be sure to do it a day or two before Christmas morning.
Nintendo Switch
Stick this in their stockingThe Mario Kart Live: Home Circuit Mario Set
is the closest your kid will get to actually driving in a kart. The tiny camera above Mario's head turns the RC car into an AR race track that you watch, and control, on the Switch.
Stick this in their stockingThe Nintendo Super Mario Brothers Game and Watch is a unique handheld version of SMB that is also a clock. So, it can occupy busy hands for a bit and then rest on a nightstand or desk as a beautiful piece of decoration that, occasionally flashes with 35 different animations, including appearances from Mario's friends and villains.
Stick this in their stockingSure, Sonic is fast. But how fast is he in a car? Leave that mystery up to your kids to figure out with the fun Nkok Team Sonic Racing RC Car, complete with a turbo boost.
Stick this in their stocking
Bowser unleashes havoc on Mario in Odyssey all while flying in a pirate airship. Now your kid can recreate the battle scenes on the couch with the Nintendo Super Mario Bowser's Deluxe Airship playset.
Stick this in their stockingAnimal CrossingClub Mocchi Mocchi Tom Nook stuffy after he hires you in the game.
Stick this in their stockingNickelodeon SpongeBob SquarePants with a 6-inch tall Plankton in all the squishable, loveable goodness you'd expect from a plush.
Stick this in their stockingNintendo Link The Legend of Zelda
PlayStation
Stick this in their stockingHot Wheels Night Rider K.I.T.T
XBox
Stick this in their stockingMinecraft Skeleton Defense
iOS or Android Tablet
Stick this in their stockingStrucidNerf Boom Strike Dart Blaster not only allows for dart slinging fun, but also comes with a redeemable code to download an item from the game.
Stick this in their stockingDaniel Tiger's Neighborhood Figure Set
, which includes the whole gang, around 2 1/2-inches tall with moving heads and arms.
Stick this in their stockingPokémon cards have their own supply chain block, so aim for this Battle Figure eight-figure set, which includes Pikachu, and a few of the bigger characters are posable.
Stick this in their stocking
Gund Toca Life Blind BoxEvery product on Fatherly is independently selected by our editors, writers, and experts. If you click a link on our site and buy something, we may earn an affiliate commission.