This 90,000-Piece Lego Roller Coaster is a Marvel to Behold
The Lego roller coaster took 800 hours to assemble.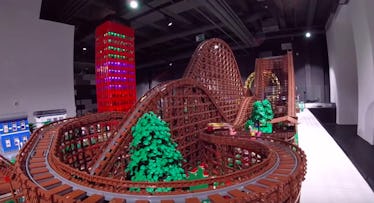 Youtube / Chairudo
And you thought the 7,500-piece Lego Millenium Falcon was insane. YouTuber and Lego fanatic Chairudo is blowing people away this week with a video of his newest creation: a 90,000-piece roller coaster modeled on the El Toro ride at Six Flags Great Adventure in Jackson, New Jersey.
RELATED: How To Get Your Kid's Legos Off The Floor And Onto The Wall
The track is over 85 feet long and features several massive drops, not to mention a few unexpected twists and turns along the way. It's a marvel to behold and Chairudo makes the experience even more enjoyable by strapping a camera onto the miniature cars on the track. This POV angle allows viewers to feel like they are riding the world's most extreme tiny roller coaster, so don't be surprised if you suddenly find yourself throwing your hands up and screaming as you "descend" down one of the giant hills.
This incredible Lego roller coaster is a part of a display Chairudo created for Hamley's, a toy store in Prague. Along with the El Toro replica, the display features several other amusement park rides and entertainment, including a Ferris wheel, swings, and a giant maze. According to Chairudo, the world's largest Lego wooden roller coaster took over 800 hours to assemble from start to finish. Although virtually riding it from the comfort of your own home takes only 124 seconds.
This article was originally published on