Best Vegan Protein Powders, According To a Nutritionist
Boost your protein intake with these supplements.
by Aline Martins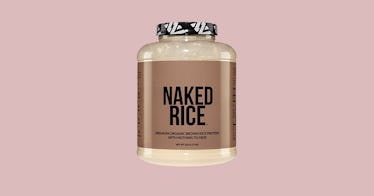 If you're a vegan and you need protein, vegan protein powders are your friends.
Dads who find time to work out: kudos. But parents know that kids tend to take over whatever free time used to be dedicated to meal prep and fitness, so the "dad bod" can creep up fast. That's why, if you're making a smoothie, a protein powder is an easy way to boost your protein intake for the day to help you build muscle. A vegan protein powder simply means that the protein comes from plants rather than animals.
We can't deny the benefits of working out and following a healthy diet. From a better sex life to a better digestive system, taking care of your fitness is usually worth it. Lucky for busy dads, though, things like living room exercises and vegan protein powders exist to make the fit lifestyle a little bit more achievable.
Why vegan protein powders? Well, for starters, if you're vegan and need protein on the go, they're a perfect addition to what you're already eating.
See more: Best Protein Bars, According To a Nutritionist
"Anyone who is on-the-go and/or isn't super-savvy in the kitchen might consider using a vegan protein powder as a supplement in their diet," said Jen Silverman, a New York-based nutritionist. "Vegan protein powders are a good way to enhance a smoothie or add more protein and nutrients to a diet. Oftentimes vegans have difficulty getting enough protein, iron and/or B vitamins because these are all ingested from animal sources."
Vegan protein powders are also great for anyone who has a sensitivity to whey, since vegan protein powders are made from non-animal protein sources like pea protein, brown rice protein, chia seeds or hemp seeds, Silverman added.
But, Silverman also noted that not all vegan protein powders are created equal, so you should check the brand reputation, ingredients, and nutrition facts.
"As with all products, the lower in sugar the better," Silverman said. She looks for no added sugar and a powder with less than three grams of sugar overall.
Silverman also said one serving should be anywhere from 90 to 130 calories with under 10 grams of carbs and a minimum of 15 grams of protein per serving.
In terms of what to avoid, Silverman says to be wary of soy protein, vegetable oils, gluten, maltodextrin, artificial sweeteners, and fillers like xanthan gum. Bottom line: vegan protein powders are a convenient way to add protein to a plant-based diet. But they shouldn't replace consuming real, actual plant-based foods.
Here are some of the best vegan protein powders we'd recommend, according to Silverman's guidance:
Pros: The pea, brown rice, hemp seed and pumpkin seed-derived powder is soy-free and boasts 18 grams of protein and five grams of fiber. It's low in sugar, and "chocolate makes everything go down better and mixes well in smoothies and mochas," Silverman said.
Cons: It is a little on the pricier side, since only 15 servings will cost you almost $30. Plus, it's on the higher side in terms of sugar.
Pros: This powder provides a boost of energy with a mix of red beets and adaptogenic herbs. "Beets and cordyceps mushrooms have been shown to increase blood flow, while the adaptogens can serve as natural stabilizers, giving a boost when you are tired and calming you when you are stressed," Silverman said.
Cons: It's light on the protein, with just three grams per scoop. And, for those easily affected by caffeine, the coffee in the powder might keep you up if you drink it later in the day.
Pros: This protein powder is pretty flavorless. "Clean and simple, hemp seed protein is easy to add to just about anything, from your favorite berry smoothie recipe to an add-in in muffins," Silverman said. This one is high in protein and fiber. Plus, it boasts omega-3 and omega-6 fatty acids.
Cons: It's low in lycine and the amino acid leucine, which are essential to muscle building, Silverman warns.
Pros: Silverman calls this pea and sprout protein a "heavy hitter" with 22 grams of proteins and 3.8 grams of amino acids. It's also soy-free.
Cons: Some reviewers say the new formula isn't as good as the old one.
Pros: "This high-end powder relies on just five carefully sourced and monitored ingredients to impart 20 grams of protein (and just two grams of sugar) per serving," said Silverman. It boasts a smooth consistency perfect for baking.
Cons: High-end means high price for this protein powder.
Pros: Simplicity is key here. "No fancy-dancy blend of ingredients, this powder is nothing but organic sprouted brown rice protein," Silverman said. It provides 25 grams of protein and 4.9 grams of quality amino acids per serving. Plus, it's soy-free and wheat-free, which is good for sensitive eaters.
Cons: It's so simple it could make people shy away.
Pros: This is a raw vegan protein powder composed of five proteins: non-GMO pea, flax seed, quinoa, pumpkin seed and chia seed. Everything is USDA organic, gluten-, soy- and dairy-free. It's got 20 grams of protein per serving, and less than nine grams of carbs.
Cons: The texture is on the grittier and grainier side.
Every product on Fatherly is independently selected by our editors, writers, and experts. If you click a link on our site and buy something, we may earn an affiliate commission.
This article was originally published on