The Best Valentine's Day Jewelry Under $500
It's all gold. (Even the pieces that are silver.)
by Dave Baldwin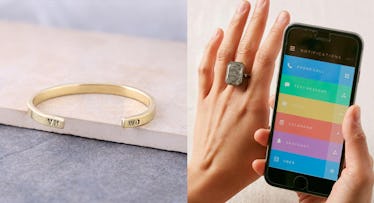 Despite what you might think from watching countless Kay Jewelers commercials about Valentine's Day gifts, giving your someone special a bracelet (bangle, slap, or other) for Valentine's Day doesn't have to be the cheesiest thing you do this year. Or the hardest.
RELATED: The Best Valentine's Day Gifts Under $50
No, when it comes to giving Valentine's Day jewelry, you don't need to know the difference between a pendant and a charm. You don't have to be afraid of a pair of earrings. And you definitely don't need to have been a fan of Dr. Quinn — either the show or Jane Seymour — to pull off a necklace. All you need is a sense of your partner's style and this handy cheat sheet to some really distinct handcrafted bling.
Catbird Full Heart Necklace
Climb out of the doghouse and onto the catbird seat with this heart charm and necklace from Brooklyn-based Catbird. It's sold mix-and-match style (so you can add more pendants later) in both sterling silver and 14k yellow gold and comes either monogrammed with a single letter or, like the expression on your face when your wife asks if the kids' lunches are made, totally blank. Also, a portion of the sale goes to charity so you won't feel like you got duped into celebrating a made-up holiday.
Soko Kazi Cuff
If your hard-working woman likes to celebrate other "women who werk," this stylish adjustable brass cuff is your move. In fact, when you order you'll be asked what type of woman she is — a Trailblazer, Super Mom, Boss Lady, or Creator (but not The creator, obviously). The engraved cuff is then handmade in Kenya by a female artisan "companion" of similar stature — so it's made "for her by a woman like her."
Seoul Little Maive Happy Together Pins
Depending on how romantic and/or secure you are, you can either roll with classic heart pins that read "Happy" and "Together" (one for her, one for your desk drawer!) or something more suited to her personality. She a fan of the beach? They've got a palm tree. Cat person? There's a cat pin in either 18k-gold or 14k-rose gold. Hell, they've even a pineapple if she just loves tropical drinks.
Shinola Birdy 34MM Watch
Don't buy into that old adage that gifting a watch to someone means your time together is "on the clock," and instead impress her with this elegant gold timepiece. It's handmade in Detroit from Swiss parts and, much like the mom/wife you're giving it to, it's been "pressure tested to ensure top performance."
Saguaro Fringe Necklace in Desert Rose
Sun-dried in the California desert, these hand-dyed, 24-inch necklaces comprise 9 tassels hanging from 5 cotton cords. They're "inspired by deep shades of desert flora" and come in desert rose, golden ochre, and cactus green, among other earthy colors. You can almost hear the calming flute music from here.
The Brave Collection Tassle Cuff
And speaking of tassels, they're not just for graduation any more! These flexible cuffs are handmade in Cambodia out of either sterling silver or 14k gold-plated brass and are adorned not only with a tuft of cotton and metallic fiber, but also a dangling buffalo tooth charm that will totally match her lucky nickel.
Ringly
It's a Bluetooth connected piece of chunky jewelry that lets her know when you (or someone important) are calling. She can also set up notifications for email, apps, calendar, tweets, texts — basically anything that you'd pull your phone out for, without the hassle of taking out the phone.
LEIF Evil Eye Ring
Not at all what you get when you pretend you don't smell the baby's diaper and your wife gets stuck changing it, LEIF's Evil Eye is actually a delicate .25-inch "sparkling sapphire-hued crystal" lined with rosegold lashes. In addition to the eye-catching aesthetic, it also reportedly "wards off negative energy." Good for when you come home from work in a bad mood.
Chained To My Heart Earring
It might be sold as a single earring but that doesn't mean you care half as much. Nope, just that you're trying to save cash. Kidding! This 3mm diamond stud (set in 14k gold) is designed to fly solo at the top of her ear. And thanks to the wrap-around chain, hopefully it never gets lost. Because, you know, diamonds are expensive, man.
Apple Watch Hermès Band
Yea, that $339 price tag is for just the band. No watch included. That said, a handsome band it is, made of either "textured Epsom or supple Swift leather." There's a stainless steel buckle and it comes in one of 5 colors with names you won't recognize from your kid's box of Crayolas — rose jaipur(!), anemone(!), capucine(!). Once again, there's no watch. Can't stress that enough.
J.Crew Classic Pavé Link Bracelet
This popular Pavé bracelet from the Crew is described much the same way you think of yourself: "Sophisticated and perfectly chunky." And since it's made of glass and brass and shiny 14k gold plating, it won't cost you a fortune and she can wear it every day.
This article was originally published on