The 8 Coolest Toys from the Little-Known USPS Kids Shop
Get the kids gifts, support the USPS.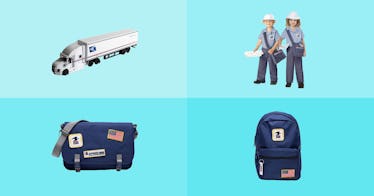 Unless your head has been under a rock, it should be no surprise to hear that the USPS is in trouble. Although the essential mail service has been struggling for quite some time, actions by the Trump Administration to gut, underfund, and cut the USPS has led to a crisis for one of the most important services the country provides. Add that to a deadly pandemic, one that would make it generally inadvisable to stand in a long line to vote in person, and an increased demand for mail-in-ballots, and you have a democracy problem.
While many people have been signing petitions to help save the postal service from sabotage, and lawmakers have proposed budgeting extra money for the service, the USPS has some super cool gear that anyone can buy that will put money directly back into the mail service. Think of it as band merch but for the coolest boys in blue who give us letters from loved ones, deliver our mail ballots, and bring us all of the packages we have been buying while online shopping. Here are the coolest things you can buy from the USPS to help save it.
Every product on Fatherly is independently selected by our editors, writers, and experts. If you click a link on our site and buy something, we may earn an affiliate commission.
This article was originally published on