The Urbanears Ralis Bluetooth Speaker Is the Portable Boombox You Deserve
The Bluetooth speaker is sleek, well-designed, and sounds friggin' great. What more do you need?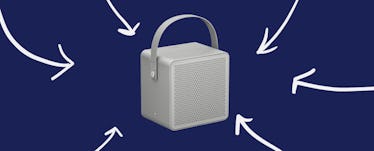 The market isn't just saturated with Bluetooth speakers; it's damn near flooded. This makes it easy to find a portable sound system, but much harder to find the right one — the system that, sounds great but is also tough enough to shrug off the occasional slam or splash of water, and that looks good, rather than the result of the unholy union of a speaker and portable coffee mug. The new Urbanears Ralis Bluetooth speaker checks all the boxes. A sleek, handled box with an understated design and great, well-rounded audio, it's an excellent all-around music maker. It even charges your phone.
The Ralis comes in matte red, blue, or grey and is about the size of an old-school lunchbox. It weighs about six pounds and has a simple canvas handle. On the top is a row of five buttons for all your volume, power, and track-pausing needs. It has a 20-hour battery life, an aux input, and, as a very nice bonus, a USB-port that lets you to charge phones or other ailing devices by sipping power from the speaker's internal battery. Pairing with the speaker is a breeze and it can support two Bluetooth devices at once so you can battle it out with others for song supremacy.
Audio-wise, this speaker can more than. It has a pair of five-watt tweeters that push out sound from the front and back and there's a 10-watt woofer that throws out the bass — and some serious puffs of air — from the back. Whether playing a podcast, "Baby Shark", or one of your go-to summer playlists, the Ralis throws out a surprisingly loud, well-rounded sound. The highs are crisp, the mids come through clean, and the lows, in particularly are pretty damn thumpy. It does justice to pop, rock, classical, and, probably, whatever pre-post-punk-trip-hop-swing-jazz-fusion you might be into.
The Ralis isn't small. But it's certainly not dainty. It can be brought out in the backyard or on a beach trip and, so long as you don't dump sand on it, provide a day-long soundtrack. I do wish it wasn't so boxy, however, as it makes it a bit tough to throw into a backpack for a casual adventure. But, in terms of its overall performance? It can go grille-to-grille with speakers that cost far more. It looks good, sounds great, and is an excellent summer companion.