Baby Yoda Christmas Sweater Is the Best Ugly Star Wars Christmas Sweater
by Donna Freydkin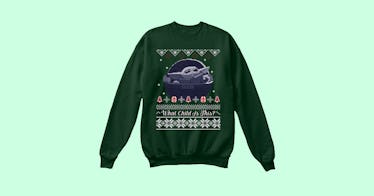 Listen, we're into ugly Christmas sweaters. Because, well, actually we don't need to give you a reason. But there's ugly Christmas sweaters, and then there are epic ugly Christmas sweaters. The ones you wear with pride, with joie de vivre, with panache, with a sense of urgency. And thus, we bring you Star Wars ugly Christmas sweaters for men. These are our favorites, and yes, there is now a Baby Yoda "ugly" Star Wars sweater for Christmas. As you may have heard, merch centered on Baby Yoda (AKA "the child") from The Mandalorian is going fast, so grab this one while you can. We've got your link below.
Baby Yoda has taken over the world. And if you love baby Yoda (how could you not?), you need this ugly Christmas sweatshirt, with his face on it.
Not sure where to begin with this jumper. But suffice to say, it's a long-sleeve pullover sweater featuring a cozy snowy scene and R2D2 decked with holiday lights. Why? Why the hell not, is more like it.
This masterpiece of design features Darth Vader, proudly staring at you above two crossed lightsabers.
Somehow, skanky peppermint sticks pair quite nicely with the man who was once Anakin Skywalker.
We particularly like the maroon and green color scheme. Very festive, in a brooding kind of way.
Every product on Fatherly is independently selected by our editors, writers, and experts. If you click a link on our site and buy something, we may earn an affiliate commission.
This article was originally published on