The Best Two-Player Board Games to Play When the Kids Are Asleep
When the kids are in bed, put away Candy Land and brush off the real games.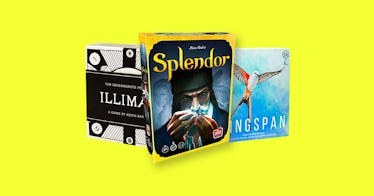 Playing board games
is a great family activity, but sometimes parents want something a little more intense, strategic, or scary than board games for toddlers typically involve. So when the kids are asleep, the real games come out to play. The best two-player board games for couples with kids can be played quickly — you'll probably want to crash soon after you put your kids down for bed — and require just enough strategy to hold your interest over multiple plays (but not so much that it hurts a sleep-deprived brain). And while the focus here is on the best board games for couples, these games are also versatile enough to fit neatly into a couples game night — or to eventually include the kids, when they're older. Here are nine fun-filled two-person games that fit the bill.
The Best Two-Player Board Games If…
You're Into CosplaySplendor: Players are Renaissance merchants who collect "gems" to earn points and please the nobility. Build your wealth and secure fifteen points to win. Splendor is perfect for quiet competition that works your brain but won't get you too fired up before bed. This game is fairly strategic, but the rules aren't too complicated. It's designed for 2 to 4 people and works great with the lowest number. Run time is about 30 minutes, or a bit more if you're set on perfecting your strategy
You Love IronyPandemic: Too soon? Really, though, this game is great if you would rather cooperate with your partner than fight against them. You'll work together to stop four novel diseases from spreading across the globe. Unexpected outbreaks will keep you on your toes. You'll have to take your time reading the rules to get the instructions down, but once you get the hang of it, the game moves quickly. Pandemic fits 2-4 players, and the run time is 45 minutes. This is a good game to level up your kids to — recommended age is eight and up — because it's cooperative, you'll be able to help them figure out a strategy
You Appreciate Beautiful Playing CardsWingspan: Wingspan is a card-based strategy game in which you play as a bird-lover trying to attract the best birds to your wildlife preserve. Hard-core gamers praise the perfect gameplay, but the real draw is the 180 plus unique bird cards, each with its own bird illustration. They have accurate artistic details that nature-lovers will appreciate, each has a fun fact to teach you something new, and, more than anything else, they're gorgeous. Wingspan came out in 2019 and has been winning awards and receiving rave reviews ever since. Each game lasts about 45 to 60 minutes, and it's designed for 1 to 5 players — that's right, there's even a solo mode if you're the only one up for a game.
You Have a Train Set in the BasementTicket To Ride: Ticket to Ride was released less than two decades ago, but it already feels like a classic. Players build cross-country railroads to complete their routes and score the most points. The rules are simple and easy to learn. There is strategy, but it's less difficult when only two people are playing. Ticket to Ride is a good fit for couples who are newer to board games. This game is designed for 2 to 5 players and lasts for 30 to 60 minutes. If you're playing as a couple, game time will probably be on the shorter end. The age recommendation is eight and older, so you can easily play with older kids, particularly if they're obsessed with trains.
You're Looking to Pit Carnivores Against VegetariansEvolution: Another game with beautiful artwork is Evolution. Players start with one little herbivore, but they quickly grow their pack and evolve new species with traits like Long Neck that either helps them get food or those like Climbing that protect them from hungry Carnivores. The rules are simple, but the strategy is ever-changing. This game is for 2-6 players and takes about an hour or longer to complete. It's been featured in the University of Oxford' evolutionary biology department and in the scientific journal Nature, but it doesn't take a scientist to play.
You Like Classic Card GamesIllimat: Illimat was originally designed by indie rock band The Decemberists for a photoshoot in which they posed as a secret society playing a game lost to time. Years later, game designer Keith Baker crafted a real game from it. Illimat puts a twist on classic card games for a timeless feel. The mysterious artwork stays true to The Decemberists' inspiration of a secret society, particularly one that could fit into the world created by the band in their album Hazards of Love. For 2 to 4 players, Illimat is well-suited for both new and experienced board gamers. Games with fewer players have more strategy and those with more have more unpredictability. Each round takes about 15 minutes to complete, and there are typically 2-3 rounds per game depending on how quickly you rack up points, totaling an average of 30-45 minutes per game.
You Only Have 30 MinutesDominion: Dominion started a whole new genre of board games: deckbuilding. As a player, you're the ruler of a small kingdom trying to expand your dominion, but the other players want the same for their land. To win, you must grow your kingdom while fending off your opponents by collecting and playing cards with various abilities. Dominion comes with more sets of cards than are used in an individual session, allowing you to mix and match so that every game is different. If you get really into it, there are tons of expansions available. Dominion can comfortably be played with anywhere from 2-4 players. Each game takes 20-30 minutes, leaving enough time for a rematch if you or your partner is a sore loser
You Like ChessHive: Hive is an abstract tile-based game that's sort of like chess without aboard. The goal is to use your insect tiles to totally surround your opponent's Queen Bee while preventing them from doing the same to yours. There's no set-up; play starts when one player puts the first tile down. Once played, each insect can move in a unique way, like a chess piece. There's no luck involved; this game is all strategy. Games of Hive are quick, clocking in around 20 minutes, including thinking time. It's made for 2 players, and 2 players only.
Every product on Fatherly is independently selected by our editors, writers, and experts. If you click a link on our site and buy something, we may earn an affiliate commission.