Turtle Mail Is A Toy Mailbox That Lets You Send Printed Messages To Your Kids
Almost like getting a real letter in the mail.
by Dave Baldwin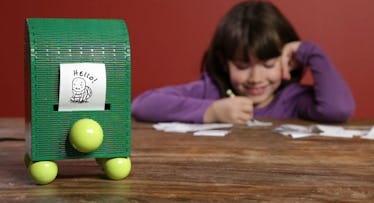 There is a ton of technology out there to connect parents with kids. But there's still something quaint about getting a letter in the mail. (Unless it's a subpoena. Or a notice for jury duty.) But since you can't send your kid a handwritten letter to wish them goodnight when you're working late at the office, there's Turtle Mail.
RELATED: The Best Sleep Apps and Meditation Apps For Relax Kids
Not to be confused with the slower (albeit similarly named) Snail Mail, Turtle Mail is pretty much a fax machine for kids. Actually, it's a wooden, Wi-Fi-enabled toy mailbox with a receipt printer inside. The printer is thermal, so no ink is required ever (again, like a fax). The box is a handsome lacquered birch that comes in dark green or natural wood.
To send messages, simply hop on the TurtleMail WebApp from your computer or smartphone and type away. You can add pictures, fun cartoons or a list of chores that must be completed by the time you get home or else, whatever. Then, you can either send it immediately or schedule a delivery time ⏤ say, right before bed. You can also reprint any of the receipts later for tax purposes.
Admittedly, it's pretty pricey for what you get, but then again, you can also subscribe to daily activities based on your kid's age and interests. That way, every day they'll receive everything from puzzles, factoids, and word games, to jokes, riddles, and even writing exercises (aka, jury duty notifications for 6-year-olds).
This article was originally published on