This Awesome Pool Float Truck Has a Beer Cooler Hidden in its Hood
Going back to dry land to get a cold drink will be a thing of the past.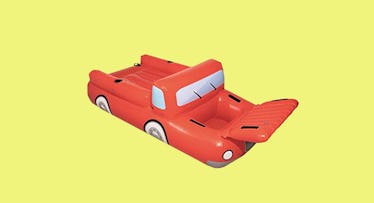 Your pool might already be crowded with a lazy mascot and/or a floating ShotSki, but we're here to tell you about another pool float that's worthy of some wet real estate: the Bestway CoolerZ Big Red Truck. It's a combination pool float-floating beer cooler, a great way to stretch out in the sun, floating the day away while keeping cold drinks chilled and conveniently hidden in a very clever spot.
The inflatable flatbed is roughly 9 feet long and 5 feet wide. It has a windshield complete with printed-on wipers and wheels that look half-submerged when it's in the water. There are headlights and a grille on the front of the float, and a license plate printed on the back because hell yeah there is. On the other side of the float, the main seating/lounging area is in what would be the bed of the truck.
The real draw here is, of course, the secret cooler. In a compartment under the "hood" that can be filled with ice and your favorite beverages. It's a game-changer that'll let you float around the lake or the pool for hours without needing to run to the fridge or the cooler to get a fresh beverage.
The float has room for two to stretch out their legs and lean against the soft backrest. A word of warning: its listed capacity is just 250 pounds, so all but children and the sveltest of adults should probably stick to a one-person-at-a-time policy.
Besides the novelty of floating around on a drink-laden vessel, this thing seems to be a solid pool float. It weighs 20.4 pounds, which points to the thickness of the material, and has heavy-duty handles for easy hauling in and out of the water.
And don't worry: there are also two built-in cupholders, so it's just as convenient to have an open beer on this float as it is to keep the closed ones cold.
Every product on Fatherly is independently selected by our editors, writers, and experts. If you click a link on our site and buy something, we may earn an affiliate commission.
This article was originally published on