The Best Outdoor Kids' Trampolines
Bounce around! Bounce around! But do it safely.
by Lexi Dwyer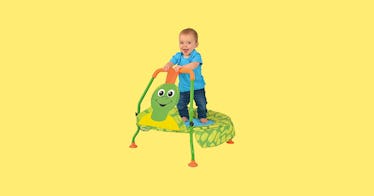 We know that few kids can resist the springy siren call of a trampoline. As a parent, you're torn: You know that child obesity rates are trending upwards and risky play can be good for development. You also know that during, say, a pandemic, when there's not much to do, an hour or so of supervised jumping on a kids' trampoline can make the difference between a smooth bedtime routine (tired kid equals happy kid, after all) or a painfully prolonged one.
On the flip side, there is the potential for injuries, especially to areas like the head, neck and spine. In its statement on trampolines, the American Academy of Pediatrics doesn't equivocate, saying that "cervical spine injuries often occur with falls off the trampoline or with attempts at somersaults or flips" and "the home use of trampolines is strongly discouraged."
But since these bouncy kid magnets are eternally popular—some estimates show 500,000 sold in the U.S. annually—Fatherly asked Dr. Benjamin D. Hoffman, the chair of the American Academy of Pediatrics' Committee on Injury, Violence and Poison Prevention, for some pointers on how to keep kids safe while playing on a trampoline.
Be watchful. "They can be great for exercise but supervision is key— the nets around the side [of outdoor trampolines] can lull parents into a false sense of security," says Hoffman. He adds that keeping an eye out will help prevent daredevils from testing out the moves they learned in gymnastics class. "With tricks on trampolines, the worst-case scenario is head, neck and spinal cord injuries, so make sure the child is always appropriately supervised and is being smart about it," he adds.
Forbid multiple jumpers. This is especially important if you're mixing older and younger children. "With a larger person and a smaller person, if they hit just right, the smaller person can be jettisoned with a lot of force," says Hoffman.
Keep it grounded. If you have an outdoor trampoline, use stakes (like these) to secure it to the ground to prevent wind from uprooting it, which we shouldn't need to tell you would be really horrible news if kids were inside. Some trampolines include stakes, but with others they must be purchased separately.
Aim for a soft landing. As Hoffman says, "The biggest problem is when someone falls off the trampoline onto the ground—you want it to be on a softer surface." A padded mat around the trampoline will help cushion falls and absorb noise if you're using it indoors. For outdoor trampolines, make sure the entrance is secured (usually by a zipper)—it's easy for excited kids to forget that step.
Every product on Fatherly is independently selected by our editors, writers, and experts. If you click a link on our site and buy something, we may earn an affiliate commission.
This article was originally published on