The Best Toys of The Year: A Dart-Shooting Drone, Coding Caterpillar & More
From dart-firing drones to coding caterpillars.
by Fatherly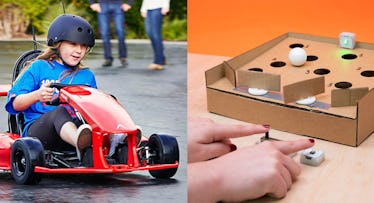 Remember being a kid and getting your play on with a simple puzzle, set of K'nex, or session of Tiger Electronic's Double Dragon? Man, are things different. Now toys are so brainy they should come with MENSA memberships. They can teach kids how to code, learn information more efficiently, increase their emotional awareness, and simply have a lot more fun. From a dart-firing drone to a coding caterpillar, here are 12 standouts.
RELATED: The Best Toddler Climbing Toys and Tumbling Mats
SAM Labs
SAM Labs is an easy-to-use electronics kit that helps prepare your kid for the wireless future. These rechargeable smart blocks (a button, LED, motor, and buzzer) each perform a different behavior (flash, move, twirl, etc.). When a block turns on, it appears in the SAM Space app, where your kid can drag and drop components to connect them. Depending the kit, those components can be used to build a remote-controlled car, a drawing machine, or a robot maid. Just kidding on that last one. Unless your kid is really, really smart, in which case, who knows?
Ages: 7+
Hot Wheels AI
Like the popular Anki Overdrive, Hot Wheels AI is a next-gen race car set that uses artificial intelligence to keep the vehicles on track. Driving is done with a video game-style controller, and you can even launch virtual hazards (ex. Spy Hunter-style oil slicks) at your opponent. Speaking of opponents, you don't even really need one — the other car can drive itself.
Sesame Street Love2Learn Elmo
As if your toddler wasn't already crazy about Elmo, this interactive version of the Sesame Street favorite not only calls them by name, it spits out over 350 responses based on personalized info you enter into the smartphone app. Elmo laughs, sings, plays learning games, and even encourages kids to pick up after themselves. That's right: Elmo puts himself away.
Actev Arrow Smart-Kart
Actev is a Silicon Valley go-kart startup looking to be the "Ultimate Driving Machine" for those who just learned to spell BMW. The Arrow Smart-Kart has a rigid steel frame, two independent 120W electric motors, obstacle avoidance technology (remember, this is a go-kart), and a contoured seat with dual speakers. Most striking is the fact that parents can control the cart via mobile app. In other words, if Junior guns it for a busy intersection, you can instantly disable the engine. Or, as you like to call it, hit the "buzzkill switch."
Nerf N-Strike Elite Terrascout RC Drone
Possibly the most advanced way to shoot someone in the crotch, the N-Strike Elite Terrascout RC Drone Blaster uses a remote control with 720p HD streaming video to target and destroy the enemy. It can unleash 18 rounds of foam-dart fury and records the carnage on the included SD card. You can also aim it independently from its driving direction — which means the ability to attack while retreating — something you learned from LEGO Napoleon.
Fisher-Price Think And Learn Code-A-Pillar
Code-A-Pillar is the best of 2 worlds: it teaches coding skills while steadfastly remaining a cuddly caterpillar. Preschoolers can infinitely rearrange his segments to make him move in all directions and take paths to targets, which, believe it or not, is sequencing and programming. A companion app (of course) will expand on the counting and patterning challenges for little kids. And he lights up in 8 different colors! Finally, a STEM toy that gets you.
The Coco Color Stylus
Think of the Color Coco as a 21st-Century version of that fat 4-color click pen everybody wanted in grade school. It's a giant, battery-operated writing implement that kids use to color/draw on any smartphone or tablet. Actually, with four styles (pen, pencil, pastel, paintbrushrush) and 48 base colors, it's more like an entire art set.
Flexo Bricks
If there's one drawback to traditional LEGOs, other than they hurt like a mother when you accidentally step on one, it's that you can only really use them to build rigid structures. And if you want to build something that bends or flexes, you have to MacGyver it with rubber bands. Thanks to Flexo, not anymore. A set of traditional Lego-compatible construction bricks connected by flexible elastic tendons, they boast "a full range of movement, from flat to 180 degrees."
Cinemood Projector
This projector is designed especially with your kid in mind. The 3.14-inch cube connects to the cloud via Wi-Fi and your phone via Bluetooth so you can project movies up to 100-inches in size. It also comes loaded with 89 cartoons, 20 digital books, as well as audio stories and albums — worthwhile stuff like Winnie-the-Pooh and Treasure Island. There's even a sleep timer, so you can ditch the books once a week, point it at the nursery ceiling, and use it like a 21st-century mobile while you do something else (like eat dinner). Not that you'd ever do that.
Xyloba
Xyloba matches construction with music but forgoes the brick people singing about how awesome everything is. Instead, modular, interlocking wooden blocks, ramps, and tone bars form marble runs that produce different melodies as the marble strikes the chimes. There are three complexity levels, and kits with instructions for playing specific songs. But, since everything is interchangeable, you can give your kid anything and let them build until you can't take any more glockenspiel.
Gululu Water Bottle
This colorful vessel combines a "smart" water bottle and a Tamagochi-style virtual pet. It works by calculating how much water your kid needs based on their age, weight, and location and then measuring the amount they're knocking back during the course of the day. It records all that info via Wi-Fi and posts it to the scoreboard in a free app. And to trick kids into carrying around the bottles and downing all that damn water, their Gululu pet (located on the outside of the bottle) grows, gains powers, and reaches new levels the more they consume.
LeapFrog LeapStart Interactive Learning System
Because sometimes you want to watch Penny Dreadful instead of Peekaboo Barn on your iPad, LeapStart makes a series of 4 touch-and-talk activity books. They're all aimed at teaching kids ages 2-to-4 over 200 "critical school and life skills," from problem-solving and the alphabet, to early coding, to how to break up with someone without emojis. Instead of a touchscreen, LeapStart uses a connected stylus that, when touched to the page, "triggers engaging questions, challenges, songs, and jokes." Still technically not screen time.
This article was originally published on