'80s Toys That Are Worth Way More Than You Think
An appraiser fills us in on the old '80s toys you should never give away.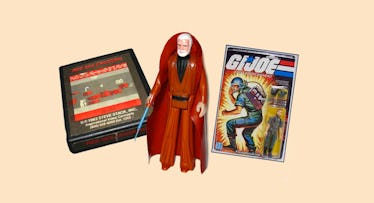 Maybe it was a Han Solo action figure, a large-scale Optimus Prime, or your collection of Hot Wheels. Chances are you were obsessed with — and still think fondly about — the '80s toys and video games you played with as a kid in the 1980s. Chances are also good that, since who'd have predicted the Internet, you carted them all to Goodwill after high school, unaware that one day they'd be worth some decent cash — not to mention emotional currency.
Valerie Hammond understands. She's the toys and dolls appraiser for ValueMyStuff (link), a valuation company with a team of nearly 100 experienced specialists who work with major international auction houses like Sotheby's and Christie's. Hammond says the market for '80s toys continues to grow, not because of the quality of the toys, but because of the emotional connection. "Some of the best sellers don't have high values," Hammond says. "They're just the most nostalgic toys, and they're [associated] with memories of wonderful childhood games and playtime."
RELATED: 5 Toys From the '70s That Are Worth Way More Than You Think
It's no surprise that the Internet, which survives on a mainline of nostalgia, is the biggest culprit in the rise of dedicated collectors hunting for the toys from their youth. Before adults had the ability to obsess over and bid on a sweet Thunder Punch He-Man figure on eBay, everything survived locally at yard sales, retail shops, and in the classified ads, says Hammond. And while people fondly remembered their favorite childhood '80s toys, maybe with friends over a beer, few displayed them on living-room shelves or office desks. They remained little more than memories of one's bygone youth. Today, however, these relics are only a click away and the emotional attachment is never broken.
"Toys from the '80s are still considered to be fairly contemporary," Hammond says. "And readily available. In fact, they are the fastest growing segment today in the action figures and accessory lines, and that includes clothing, weapons, vehicles, and pre-Atari video games."
ALSO: The Coolest Tech Toys for Kids from CES 2018
All of this is great news if you were one of those kids who left tons of '80s toys in your parents' basement when you took off for college. You could be sitting on a potential gold mine. But before you go home at the holidays and start throwing Boba Fett action figures up on eBay, there are a couple of things to know.
First, there's a significant difference between selling a rare action figure on the internet and having it appraised through a site like ValueMyStuff, says Hammond. Geography plays an enormous part in a toy's value. "Online sales are wonderful, but they don't always guarantee the most reliable value," says Hammond. "A price point in Australia or India or Denmark for an item made in the USA will be based on the rarity, availability, currency exchange rate, and economic health of the seller as well as the buyer." So if you've got something valuable, you might want to consider selling offline or through a licensed dealer.
And second, five old toys and video games from the '80s stand above the rest in terms of value and rarity, some commanding as much as $12,000 on the collector's market. The question is, were you smart/lucky enough to hold on to any of them? Take a look.
Star Wars 'Obi-Wan Kenobi' Action Figure
Despite being mass-produced, original Star Wars '80s toys and figures by Kenner still bring in big bucks if they're packaged and in mint condition. The fact that Star Wars remains a worldwide franchise helps keep demand high. "Figures and vehicles are the most valuable items," Hammond says, "but they must be in mint to near mint condition to be worth anything since millions were made."
As for which ones are the most valuable? Hammond says Obi-Wan Kenobi ranks near the top, thanks to the lightsaber that slides out of his right arm. Without the original package, it can sell for $2,000. Although since the lightsaber was prone to break easily after excessive play ⏤ patience was not a virtue for every young Jedi in the early '80s ⏤ a mint-in-box figure can reach as high as $6,000, according to some online estimates.
Atari's Red Sea Crossing
Considered the 'holy grail' of Atari games, Red Sea Crossing is one of the rarest and highly sought after video games in the world. Legend has it that five hundred copies were produced and only two ⏤ one of which sold at auction for $10,000 in 2012 ⏤ are known to remain, says Hammond. (So one of the other 498 could still be tucked away in your parents' attic.) The game is based on Moses crossing the Red Sea (seriously) and isn't particularly cutting-edge or thrilling. But if resold today in mint condition and in the box, says Hammond, it could be worth in excess of $12,000. Not bad for 128 bytes of RAM.
G.I. Joe 'Breaker' and 'Action Nurse' Figures
Despite turning 53-years-old, the original G.I. Joe action figure remains a perennial favorite and the franchise as a whole continues to resonate with collectors of different generations. Case in point: Two of the most sought-after figures come from different decades. Breaker, the communications officer, debuted in 1982 for $2 as part of the first wave of newly redesigned 3.75-inch figures. Despite being mass produced, Hammond says it can bring in more than $250 today. Impressive? Sure, but it's nothing compared to the 'Action Nurse,' which was released in 1967 and can go for more than $3,500. The 12-inch military nurse doll is rare because retailers weren't sure how to sell a female action figure to boys at the time.
Nintendo's Bandai Stadium Events
Bandai released its new fitness game Stadium Events in 1987, and it included an interactive floor mat that players stood on to control their characters in the game. Run and jump on the mat, and you would compete in the long jump on the screen. Soon after its release, Nintendo purchased the rights to the game and completely rebranded it (and the mat) with the Nintendo logo as World Class Track Meet. Not only that, but the company ordered every version of the original Bandai game be destroyed to avoid consumer confusion. The result: Bandai Stadium Events is an ultra-rare NES game and only 10-20 copies are known to exist. Hammond says the cost of an original game can range from as little as $2,000 to more than $40,000. In fact, the game's box alone can fetch up to $10,000. Who's buying that is anyone's guess.
Transformers Dinobot Swoop and Bluestreak
These robots in disguise fetch some serious energon nowadays, although collectors tend to eschew that sassy Bumblebee in favor of the original toys that started the franchise. Hammond says the Takara Bluestreak figure from 1984 ⏤ which originally sold for $10 ⏤ is worth at least $400. No list of highly sought-after Transformers, however, would be worth its Shanix without mentioning Dinobot Swoop. The robotic Pteranodon, mint in box, can bring as much as $1,350. Which is almost as confounding as why robot dinosaurs ever existed in the first place.
This article was originally published on