5 Toys From The '70s That Are Worth Way More Than You Think
An appraiser fills us in on the old toys that are worth serious cash.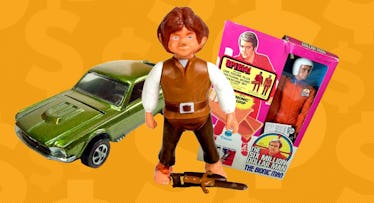 No, we're not talking about Pet Rocks. We're talking about toys from the '70s that defined play for countless kids with bell-bottoms and feathered haircuts, like Mego, G.I. Joe, and the Six Million Dollar Man. Maybe that's you. Maybe that was one of your older brothers or sisters. Either way, if any of you stashed some of your prized playthings from the seventies in your folks' basement when you moved out, you could be sitting on some serious cash.
RELATED: These '80s Toys Are Worth Way More Than You Think
While the seventies is remembered now as a fabulously dated era of toy gimmicks (stunt cycles, flashy paint, etc.), the decade also marked a cultural shift in how toys were marketed to kids. "It was the first time you saw advertisers go after kids instead of their parents," says toy expert Mark Bellomo, who's written books on Star Wars and other popular toy franchises including Transformers. Toy companies started to consider the voice of the kids rather than the voice of the parents, he adds. And while commercials included an appeal to parents to purchase the toy, for the first time they spoke directly to the child.
ALSO: The Best 'Star Wars' Toys of All Time, Ranked
"Today, a lot of seventies toys are having a resurgence," says Bellomo, who also works on Netflix's The Toys That Made Us. "Once a toy line reaches a decade-based anniversary, they start to gain traction on secondary markets." And with toys from the early seventies fast approaching their 50th anniversary, demand is only likely to intensify. But which seventies toys specifically are taking off, or are poised to do so, in terms of value? We asked Bellomo for the top five toys from the seventies that are worth a lot of money today.
Mego Action Figures
For many collectors, Mego action figures and celebrity dolls were the ultimate toy line for kids growing up in the seventies. Not only were they incredibly adaptable ⏤ thanks to their brilliant use of an 8-inch tall stock body ⏤ but Mego had the foresight to cash in on licensing agreements to create toys for boys.
Mego created figures based on Planet of the Apes, Star Trek, Chips, Buck Rogers, Action Jackson, The Dukes of Hazard, and so many more. "If you look at the amount of money that Mego paid to corporations to license their images, superheroes, TV stars, and movie stars," Bellomo says, "It was a pittance to what's being paid today."
The holy grail Mego toy line for collectors, however, remains the World's Greatest Super Heroes! based on both Marvel Comics and DC Comic book characters. "The reason why that line was so successful was the scale," Bellomo says. "A kid could put Spider-Man or Bo Duke in the Batmobile. For the company to hold Marvel and DC licenses at the same time — that made Mego a dominant force." It sounds like an impossibility today to have Superman and Iron Man under the same umbrella, but it was the norm for years.
Surprisingly, Bellomo says the most sought-after superhero toys aren't even full action figures ⏤ it's the accessories to the toys kids already owned, the Secret Identity Outfits. "It was a head and the outfit and no body, and it was the only way for you to get Bruce Wayne, Dick Grayson, Peter Parker, and Clark Kent," he says. "There were such limited numbers manufactured, it's like they don't exist." A Peter Parker Outfit recently sold on eBay for nearly $1,000.
While Bellomo says you can find original pieces if you're patient ⏤ for example, Clark Kent's eyeglasses are just a couple of hundred bucks ⏤ an entire set intact can put a kid through college. Then again, they're very rare. "It's like a Faberge egg," he says. "They're so absolutely, supremely rare that I don't care if you come to the table with $20,000."
Six Million Dollar Man
Kenner is known for giving the world Star Wars toys in the late seventies, but their first big hit was the Six Million Dollar Man. Much like the sci-fi series, the toy line was a smash success and Bellomo credits that to a lack of superhero shows on TV at the time. "There was a void in live-action super heroic programming for kids. I don't think the show was targeted to kids, but Kenner realized they couldn't compete with Mego's [expansive toy line] so they offered something different and unique."
That offering included not only a 12-inch-tall Steve Austin toy with a litany of features (bionic eye, interchangeable limbs, bionic grip, just to name a few), but also some colorful secondary characters to match including Maskstron and Bionic Bigfoot. "The Six Million Dollar Man has ticked up the last few years. People love kitsch, and the line has a kitschiness that makes it more attractive. And they're all so wonderfully dated," says Bellomo. Most toys from the 40-year old line can sell for hundreds of dollars (as high as $800 on eBay) if it's still in its original packaging and in mint condition.
Hot Wheels Redline
When Mattel debuted their new toy car line in 1968, it went toe-to-toe with the biggest car toy manufacturer at the time, Matchbox. And Hot Wheels nearly put the king out of business. Known as the "Redline" Series because the cars had a literal red line on every wheel, Mattel offered something new to kids by creating concept cars and muscle cars in a dynamic new paint treatment called Spectraflame.
"When Hot Wheels starting making those first 16, they were revolutionary," says Bellomo. "Hot Wheels made Matchbox reconsider what they were doing. Mattel wasn't using standard paint. It was like a lacquer that had a very realistic effect. The paint, the detailing, they just stood out."
Of the original set, the least popular colors at the time are the most sought after by collectors today. Especially, pink. "That's the one worth more money to collectors," says Bellomo. "To get one of the original sweet 16 in mint condition, in pink… good luck." Although any of the original Redline toys in the package can sell for thousands of dollars, Bellomo is quick to warn that if you're going to seek out any original Redline, however, make sure you're dealing with a reputable dealer. Novice buyers are known to shell out big bucks for what they think is an original, but is actually just a re-release.
Lord of the Rings Action Figures by Knickerbocker
Based off of the divisive animated film by Ralph Bakshi, the Lord of the Rings action figures are some of the hardest to find figures from the decade. According to Bellomo, the toys were on shelves for just weeks because of the criticism the film received. "They've always been relatively expensive because the devotees of Lord of the Rings are huge, even without the Peter Jackson films," he says.
But for some time, they were the only toys for the franchise, and it was a tiny toy line of six figures. Time has only made these figures harder to find, especially after the lauded Peter Jackson films, and virtually all of the figures from the series sell for top dollar ⏤ even the accessories. "About a month ago, Frodo's horse went for $1,200 and that wasn't even an AFA graded sample. Gandalf mint on card goes for about $500. I saw a Ringwraith cape — just the cape — sell for $40."
Evel Knievel
The stunt performer transcended American culture with his death-defying, and at times, bone-shattering performances on his motorcycle. So of course it made sense to create a toy that not only could recreate said stunts, but also be unbreakable. "The great irony of his action figure is that it's a bendy toy," Bellomo says. "It's plastic over wire. The head is vinyl plastic, but the accessories and costumes made it an action figure that couldn't break."
Despite being a wildly popular toy, mostly due to the stunt cycle's ability to totally rip, Knievel with a working, sealed bike could fetch a couple of big ones. "A factory sealed Stunt Cycle Set, depending on the condition of the box, can go for $300 or more," says Bellomo.
This article was originally published on