Toyota Land Speed Cruiser is the World's Fastest SUV
Feast your eyes on the World's Fastest SUV.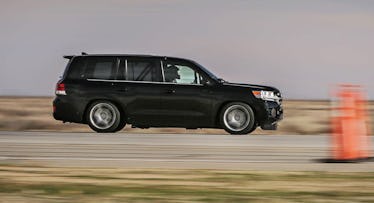 When you see an SUV drive by, the first thought to cross your mind is likely What soccer team is in there? not Holy shit that's fast. But this weekend, NASCAR driver Carl Edwards drove a modified Toyota Land Cruiser into the record books, reaching a top speed of 230.02 mph on a 2.5-mile long test strip at the Mojave Air and Space Port in California and earning the souped up truck the title of "World's Fastest SUV".
To get the Cruiser to the desired speed a team added two enormous turbochargers to its V8 engine. This increased the engine's output from the standard 381 horsepower to an insane 2,000. The engine was also fitted with a variety of racing hardware to prepare it for pushing out so much power. In addition, the SUV's suspension and tires were modified and the body lowered to eliminate as much drag as possible.
While the Land Cruiser may now hold the official title of the world's fastest SUV, Bentley can still claim to have the world's fastest unmodified SUV. Bentley's Bentayga has an unmodified top speed of 187 mph, far above most SUVs on the market. Toyota claims the previous record for fastest modified SUV was 211 mph, though it is not clear which vehicle previously held the record. Either way, this is a remarkable achievement for the Land Cruiser and proves that, albeit with a bunch of work, SUVs can bring the speed.
Buy Now Starting at $84,315 MSRP
This article was originally published on