The Best Toy Guns That Look Like Actual Toys
They're big, plastic, and ridiculous.
by Jon Gugala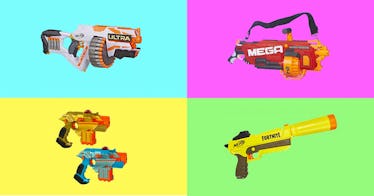 Toy guns for kids are a fraught issue for many parents, for good reason. The guns in question run the gamut from ever-popular Nerf guns, to laser tag guns, to water guns. And while pretend battles can be fun and a great way for kids to let off steam, there's a fine line between running around and playing with big, bright, modular plastic guns that are oversized and look rather ridiculous, and the fetishization of gun culture that can result from giving kids pistols that look like the real thing.
The reason is fairly eye-opening: According to a 2018 study presented by the American Academy of Pediatrics, only 41 percent of children between ages 7 and 17 could tell the difference between toy and real guns, when photos were placed side by side.
So be smart. Talk to your kids about guns and the harm they can inflict and avoid buying any that look like they belong in Lone Survivor. Be honest about gun violence and this country's obsession with gun culture. The toy weapons on our list let kids engage in pretend play, and still look like toys.
Every product on Fatherly is independently selected by our editors, writers, and experts. If you click a link on our site and buy something, we may earn an affiliate commission.
This article was originally published on