The Toasteroid Toaster Lets You Burn Custom Pictures On Breakfast
Breakfast has never been so much fun.
by Dave Baldwin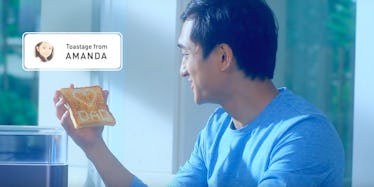 Toast is boring. You know it. Your kids know it. The good people at Pop Tarts have exploited this fact for decades. And although having strong opinions about the application of heat to bread is a very First World problem, it doesn't mean it's one that can't be solved. The Toasteroid is an smartphone app-controlled appliance that browns circles (or more intricate patterns) around your conventional pop-up toaster. Basically, it's a 3D printer for your toast. You've wondered for years if your breakfast is complete, and now you know it is.
Toasteroid falls somewhere between a mini donut maker and espresso machine in terms of functionality and "thing that lives permanently in the closet." But, it's only half a gag gift. The die-cast aluminum oven can function like an ordinary 2-slice toaster if you're a square. Or, it can use its microfilament heating element to brand both sides of your bread in 3-4 minutes with images of your choosing. If you're cool. The app's drawing feature lets you sketch freestyle pixel pics. Or you can choose from a selection of emojis. It can even print the day's weather forecast, because in the future all news will be transmitted through baked goods. You can also leave the kids or your spouse messages (playfully dubbed "toastages"). Maybe you want to wish your kid good luck on the test before school. Or tell your wife, "Leaving 4eva. Pls Njoy Eggs."
If you're short on counter space (unlike these lucky parents) there's a Tosteroid Mini that holds 2 slices and prints on one of them. Neither model is slated to pop up until next summer. Until then, have fun decorating that Wonder Bread the old-fashioned way — with squeezable jelly.
This article was originally published on