5 Toolboxes and Tool Bags That Will Transform Your DIY Game
No matter what your skill level is or how many tools you've got, there's a storage solution that can help.
by Sal Vaglica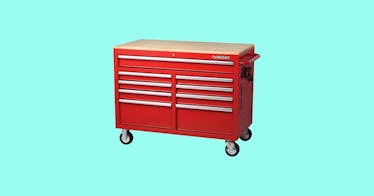 Tools, it seems, are never where they should be when you need them. How many times have you asked yourself "Where are those damn needle-nose pliers?" as the weekend project halts so you can scurry around, checking the kitchen drawers, the dark recesses of the basement, and the glovebox? A toolbox or tool bag might not be as sexy as a new miter saw, but it might be the most underrated tool you have: The right one will make you a better and more efficient DIYer. From handling the basics of Ikea assembly to more involved upgrades like crown molding, knowing where your tools are means you're putting time into getting the project done, and not searching or asking family members if they've seen your flashlight. And today's tool storage is a lot smarter than the basic box your parents had. Here are five toolboxes, tool bags, and other smart tool storage solutions to consider.
The Best Basic Tool Storage
The Best All-Around Toolbox
The Best Garage Tool Storage
The Best Tool Bag for the Guy With Needy Friends
The Best for Bringing Everything
Every product on Fatherly is independently selected by our editors, writers, and experts. If you click a link on our site and buy something, we may earn an affiliate commission.
This article was originally published on