The Best Toddler Shoes, According To a Top Foot Doctor
They're exactly what your budding walker needs.
by Thelma Adams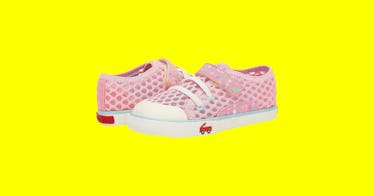 Fitting new walkers for sneakers falls somewhere between waiting at the DMV and watching Peppa Pig on the fun scale. Finding the best toddler shoes is tedious. Sizing is often a guessing game. And it's even more often a battle of aesthetics versus practicality. You're focused on functional toddler walking shoes. Your kids clamor for glitter, unicorns, and sneaker soles that light up. But when it comes to finding the best toddler shoes, and sneakers, you want footwear that's stable, solid, and flexible. The main function of any toddler shoe is to stop kids learning to walk from slipping, to protect their feet, and to give them sense of security.
Dr. Jane Andersen, a board-certified podiatrist based in North Carolina, explained what to look for when buying shoes for your toddler: "You want a flexible shoe without a rigid sole. You want the foot to develop on its own," she says. "In a perfect world, toddlers could walk barefoot but in this case, a thin sole protects their feet."
When it comes to sizing, "Make sure you ask if there's any pain or if the shoe rubs anything. You want a little bit of room, a thumb's width, in the toe box so there's room to grow. It's important to have them try the shoe and be able to test them and wear them around," says Dr. Anderson.
Special occasion shoes are fine for an hour or two, but "their primary shoes need to be flexible so their foot musculature can develop normally," advises Dr. Anderson.
And here's another pro tip from her: "Try to avoid passing on shoes from siblings. If they're worn out, they're not providing the right fit or structure. Don't share shoes between children. Sunday shoes that you wear for two hours? Pass those on. But daily shoes? Not a good idea to share them."
These are some of the best toddler shoes to buy, all of which have earned the American Podiatric Medical Association's seal of approval. These sneakers and loafers all have the distinction of being considered "beneficial" to foot health by the organization. Some loafers fun. Others are no-nonsense. But all shoes will serve your beginner walkers well as they find their footing.
Every product on Fatherly is independently selected by our editors, writers, and experts. If you click a link on our site and buy something, we may earn an affiliate commission.