8 Tiny Houses for Sale on Amazon
Need a backyard guest house? A cabin on wheels? These seven tiny houses can be purchased on Amazon and shipped to your door.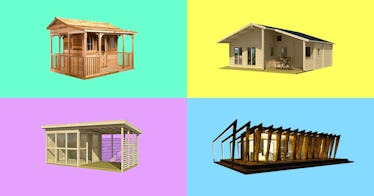 In our new, mostly homebound reality, with the majority of us still working from home and home-schooling kids, the romantic appeal of a tiny house has taken on an element of serious pragmatism. While most of these tiny houses can be made into full-time living spaces or guest quarters, all of them can become the home office, play zone, temporary classroom, gardening studio, or game room you've always wanted and suddenly need. A tiny house is an at-home oasis, where you can bask either in beautiful solitude or relaxed togetherness.
The tiny house lifestyle has spawned at least five different television shows and dozens of glossy photo books and DIY manuals. Part of the original appeal was that tiny houses facilitated a minimalist and less stressful existence, by forcing its occupant to eliminate what you don't actually need. It's kind of the opposite of the Amazon ethos, which makes it as easy as possible to buy as much as possible. Ironically, Amazon is also a great place to find tiny houses for sale.
The tiny houses for sale these days run the gamut, from nostalgic Gold Rush cabins to sleek modernist micro-homes. With their modular designs and studiously curtailed square footage, tiny houses offer a brief respite from the complexity of daily life. Here are eight very cool tiny houses for sale on Amazon.
8 Tiny Houses You Can Call Home
Every product on Fatherly is independently selected by our editors, writers, and experts. If you click a link on our site and buy something, we may earn an affiliate commission.
This article was originally published on