Thule Strollers Are 40 Percent Off For Cyber Monday
Even better, cargo boxes and bike racks are on sale too.
by Dave Baldwin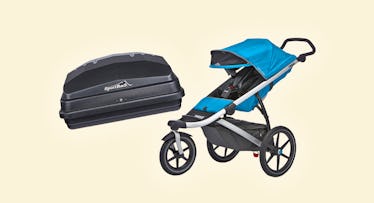 Strollers, like car seats and cribs, are big-ticket items when it comes to a new baby. There are a million of them on the market and they rarely come cheap. So when you see a deal on a popular (and highly rated) jogging stroller like the Thule Urban Glide, you don't dawdle ⏤ you close the Excel spreadsheet and pull out your credit card. Which is what you should be doing right now, as Amazon is knocking up to 40-percent-off Thule strollers, cargo boxes, and bike racks for Cyber Monday.
Since time is ticking, here are the highlights:
Thule Urban Glide
Winner of too many accolades to list, the Urban Glide is 23-pound jogging stroller that rocks rear shocks/foot-action brake, a swivel-action 12-inch front wheel, and an adjustable handlebar. On a normal day, it sells for $400. Today, it's only $260. If you've got two kids, the double-wide Urban Glide's a cool $490 ⏤ down from $650.
SportRack Vista XL Cargo Box
Because kids come with a lot of stuff that fits better on the roof than on your lap, Thule's rear-opening SportRack Vista XL cargo box offers up to 18 cubic feet of storage space. It measures over five feet in length, can hold up to 100 pounds, and is going for 20 percent off today ⏤ so only $300.
Thule Glide Jogging Stroller
For more serious runners, the Thule Glide (sans the Urban) features a fixed front wheel for greater stability at top speeds, a multi-position handlebar, and a handbrake for safety when you're running hill repeats.
For a full lineup of everything on sale today from Thule, click here. Or, for our complete list of Cyber Monday deals ⏤ including LEGOS, Star Wars action figures, and Google Home ⏤ this is the door for you.
This article was originally published on