This Smart Scale Whipped Me Into Shape Faster than a Personal Trainer
It tracks your BMI and even has a pregnancy mode.
by Jon Gugala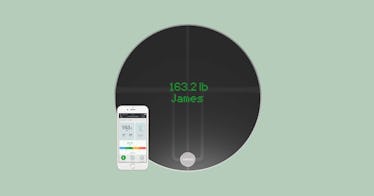 If December is the season for consumerist gluttony, and full-fat eggnog, then January is the time for carrot sticks, running on the treadmill, and staring blankly at a scale that says you've only lost two pounds since the new year. If you, like me, found yourself in that happy place between despondency and full-on despair, you may need a smart scale to ever so gently nudge you along.
We've all felt that intense, cloying sense of dread when stepping on the scale. They're generally the square, bulky things you willfully sidestep when you walk in to take a leak. Enter the Qardio's QardioBase2. It makes getting into shape … intriguing. It's a WiFi- or Bluetooth-connected circular scale that hooks up with the corresponding app and works on any surface, and it's designed to be your kinder and gentler weight loss and fitness coach.
Fitness resolutions may center on pounds and ounces, but Qardio's QardioBase2 smart scale focuses its feedback on direction rather than specific, hard-core goals. If you're looking for something that offers its readout in more general, encouraging terms rather than the bark of a drill instructor, this is the bathroom scale for you.
Rather than spitting out a single weight, the QardioBase2 provides feedback on your body mass index, tracking it over time and rewarding you with one of three faces: smiling for weight loss, a neutral face for negligible results, and a frown when you've indulged a little too much.
Granted, for some its smiley-centric feedback is a bit too twee, and for those who need black-and-white reports, it also reads weight, along with muscle mass, fat percentage, bone, and water composition, allowing you to drill down as far as you want. All stats are recorded via its app to you can track progress over time. It weights just under seven pounds, is 13 inches in diameter, and works with iOS 10.0 or later, Kindle, Android 5 or later, and the Apple Watch.
Beyond the emoji feedback, which may be a tad precious, there's a lot more to love. Its sleek design and tempered glass top in either black or white is less than an inch thick and adds class to even the most humble bathroom.
For those who want options for the whole family, it automatically detects individual users, recording data separately as such. It also has a pregnancy mode to track weight gain and progress as your partner gets further and further along in her pregnancy. Plus, she can add pictures to her numbers, so she can look back and remember what she looked like when the baby was the size of a walnut.
With the QardioBase2, I had a healthy alternative to the dreaded decimal point. Its feedback is less judgy that others in its class, but the various functions and multi-user ease makes this a scale I'm happy to use all year. Instead of dreading weighing myself, I was actually … well, excited is too strong a word. But heavily invested.
Every product on Fatherly is independently selected by our editors, writers, and experts. If you click a link on our site and buy something, we may earn an affiliate commission.
This article was originally published on