The Petcube Bites 2 Watches Your Dog, Hurls It Treats
And it's 20 percent off today.
by Sal Vaglica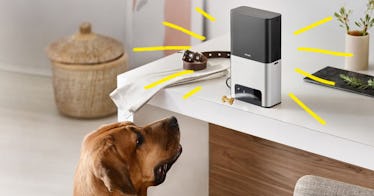 You've raised your dog from a puppy, so you think you know her. You assume that when you're gone, she's sleeping on the couch—perhaps in the leather chair she's not allowed on. Or maybe you got a new dog in the last year, helping to clear out shelters during the pandemic. In either case, pets were spoiled by your companionship while working from home. But now, if you're heading back to the office, or out to run errands or meet friends, you might want a pet camera to make sure the change in schedule isn't causing destructive behavior. The PetCube Bites 2 treat-slinging camera is as fun as the original, but better looking, and comes with Alexa built-in along with more tech that'll help mind your pets. But the best part might be the simple setup.
This book-sized, metal and plastic box has a wide-angle camera that live streams whatever is going on in the living room to your phone so you can check in on Roxy (who, it turns out, is just sleeping on that chair) for some quick peace of mind. The camera also tosses out dog or cat treats and allows for two-way communication with your pet through your phone. We had ours up and running in about 15 minutes.
Bites 2 also has Amazon Alexa built-in, so it functions as a smart speaker. We use it to play music to keep pets company while we're gone or more mundane things like set cooking timers or check the weather. That speaker sounds a charm anytime you log onto use the camera and it doesn't take long for pets to remember the tune. They tend to perk up and pay it a visit, especially if you're generous with your treat tossing.
Every product on Fatherly is independently selected by our editors, writers, and experts. If you click a link on our site and buy something, we may earn an affiliate commission.
This article was originally published on