The Barisieur Is the Coffee Maker Alarm Clock Of Our Dreams
It brews while you sleep, and wakes you up to the fresh scent of arabica.
by Donna Freydkin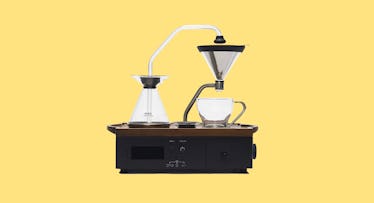 Every parent needs a coffee alarm clock in one. We all pretty much know that the best part of waking up is turbo-powered coffee in your cup. But in the days of old, you'd wake to your alarm clock and have to trudge to the kitchen to get your java, assuming you had a coffee maker you could preset. Meet your new best friend, the coffee maker clock.
Meet the Barisieur, a pour-over automated coffee maker that also doubles as an alarm clock and looks like a work of art. It was created by British designer Joshua Renouf. Today, it's used in such blue-chip establishments as the Four Seasons hotels.
How does it work, you may ask? First, the basics. Every single damn day, rain or shine, you can wake up not to Baby Shark, but to the gentle burbles and heady scent of fresh-brewed coffee. Or tea, if that's more your poison. Yes, you still have to prepare the beans, sugar, and milk before you go to sleep, by portioning coffee into a metal mesh cone filter and filling the glass flask with water, but you'd have to do that anyway with any ordinary coffee maker.
Unlike regular machines that brew coffee, the Barisieur is a design marvel. There's a discreet wheel on the side of the Barisieur that lets you control and set your alarm. As for brewing, it can start five minutes before your alarm goes off, right when the alarm sounds, or 5-15 minutes after it goes off, depending on what you want. When you turn the alarm off, it automatically resets for the next day. You can also hold down a button to brew coffee on demand, if you need a bigger jolt. The alarm on the Barisieur is your standard one; you can adjust the volume as needed. The clock automatically dims when you're going to bed, so it won't interfere with your sleep.
You store the coffee (or tea) in a drawer, along with a special spoon. When you're ready to go, the water boils in 3-5 minutes, and pours over the coffee or tea at the optimum temperature of 94 degrees Celsius. If you want to add milk, you can store it in a compartment in the coffee maker that keeps it cool and fresh.
Our only quibble? The accessories and replacement parts are on the pricy side, Make that way pricey. For example, the glass cup you need to use with the Barisieur is currently $25. Plus, while it is indisputable that the coffee maker clock looks good, it doesn't have Bluetooth or WiFi capabilities, which is a bummer.
Every product on Fatherly is independently selected by our editors, writers, and experts. If you click a link on our site and buy something, we may earn an affiliate commission.
This article was originally published on