The Best Cargo Pants for Men
They're tough, spill-resistant, and comfortable as hell. Did I mention they're comfortable, too? Because oh baby are they.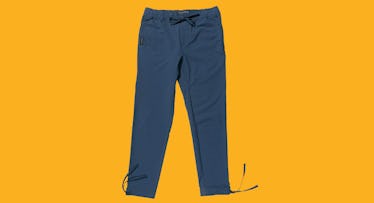 There's a reason dads are into cargo pants. They fit our lifestyle.
Stains are pretty synonymous with being a dad of young kids. That's because kids are notoriously messy and rarely keep their messes to themselves. I can't count how many times my children have jostled coffee into my lap, or dribbled juice on my leg, or grabbed me with wet-muddy hands. And each time, without fail, I must hustle for a damp towel to keep my pants from staining. It's no longer a worry with the Coalatree Trailhead pants. They're waterproof. The juice just rolls off. And that, in and of itself, would make these so-called "adventure pants" worth the purchase. Happily, there are many more features that make them essential gear.
It's important to note that the Trailhead pant was not necessarily designed for dads. It was designed for folks who are going to hit the, uh, trailhead and do scrambling, climbing, boating, or camping (I mean, they even pack into their own front pocket for easy storage). Accordingly, they were made to withstand the elements while providing protection and maneuverability.
See more: Best Hiking Boots and Shoes for Men
But the thing is, the rough and tumble world of the active outdoorsman really doesn't have anything on the rough and tumble world of the active dad. They both demand some rigorous activity, they are both dirty, and both require some degree of comfort to combat uncomfortable circumstances.
More than that, the Trailhead pants conservative styling allows them to go places where their less technical, sporty cousin, sweatpants, wouldn't dare. While they would still be considered casual wear, a dad could get away with lounging in them on a Sunday morning and get away with wearing them for an upscale brunch. All that would be required is changing into a clean shirt.
In fact, a dad could essentially get away with living in the Trailhead pants. Not only can you simply rinse them under water to sweep away any messes that might land on them — poop, spit up, strained peas, juice — they are also antimicrobial. So, no matter how much your butt sweats while playing with the kid, the pants, at least, will come out smelling just fine.
The trailhead pants are pretty much perfect for play too. The stretch allows for a full range of motion and a gusseted crotch means a dad can squat and pick up the kid without fear of a Lenny Kravitz style blowout on the playground. Also, should things get warm, the Trailhead pants can be hitched up around the calves to provide more cooling. Alternately, if the weather is cold and wet, drawstrings at the ankles can be tightened to keep the elements out.
Interestingly, being a dad can often feel like being on some adventurous trek into the unknown. With the Trailhead pant, the challenges met on that adventure can be weathered while remaining stylish and put together.
A few other cargo pants we love:
The prAna stretch Zion pant is woven with a durable water repellent finish. The pants have roll-up leg snaps for extra air circulation. Plus, they're UPF 50.
These pants have an elastic waist with belt loops, an invisible Velcro buckle with internal button closure, and adjustable cuffs. They're lightweight, durable and quick-drying.
Columbia's pants provide UPF 50 sun protection, plus they're water-resistant and stain-repellant. So go forth and conquer nature. Or your backyard.
Plus, there are thigh zippers to let in air, and cargo pockets so you can store all your stuff. And of course, you get adjustable cuffs with boot hooks so you don't get a bunch of crud into your socks and shoes.
Every product on Fatherly is independently selected by our editors, writers, and experts. If you click a link on our site and buy something, we may earn an affiliate commission.