These Geeky Advent Calendars Are Dadcore AF
For Beatles nuts, Trekkies, and even Doctor Who fans, these advent calendars rock.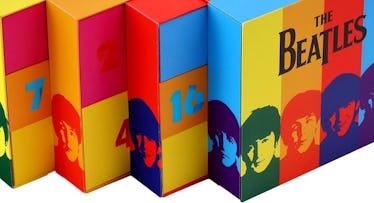 Credit: Hero Collector
Kids love advent calendars because kids love getting presents every day. But, you know who else loves getting presents every day? Everybody. For dads, opening up small little boxes every single day is awesome. It doesn't even matter if it's actually December or not. It doesn't even matter if you start a few days late opening up the boxes. Dads like opening up small gifts, and then getting another one the very next day.
With that in mind, if you're looking for an early, and creative gift for a person (probably a dad, but maybe not!) who loves obsessing over certain things, we've got three great advent calendars for you. Beatles, Star Trek, and Doctor Who.
What will you get in each and every little box in the advent calendar? Well, it would be a spoiler to tell. Let's just say you gotta make it so don't let anyone down, and that these presents are bigger on the inside. Snag these now while it's still December!
Every product on Fatherly is independently selected by our staff. If you click a link on our site and buy something, we may earn an affiliate commission, but not always. We only recommend things we actually think are great, regardless of commission.