These 14 Retailers Have the Best Return Policies
Smart online shoppers look at return policies first.
by Heather Fishel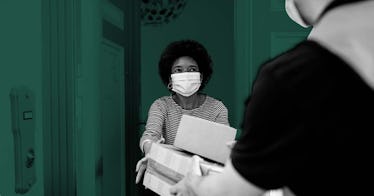 When Cyber Monday deals go live, it's always a race to grab the best prices on tech, kitchen gadgets, and some severely marked down baby gear and toys. In the past maybe you've seen an amazing price first thing in the morning and stashed it in the cart only to find it's gone after making coffee or breakfast for the kids. But this year deals will be even more fleeting, so your strategy should be to buy now, and return later.
For months, experts have been warning about supply chain issues for the 2021 holiday shopping season. Hot deals and in-demand items will sell out even faster this year. So this Cyber Monday, and for the rest of the shopping season, buy decisively when you see a great price and return later, if you need to.
There's no reason to sweat sending an item you bought back after the holidays or those getting returned with a gift receipt. In fact, many retailers are relaxing their return policies around the holidays in an effort to make grabbing deals less stressful. Stores like Nordstrom are offering free returns — you stick a shipping label they provide onto your package if you don't want to keep it. If you're giving a gift make sure to click the gift receipt option at checkout (or ask for one at the register) to make it easier for someone else to return later.
With some online retailers and shippers, it's easy to return items while you're out running errands. Need to send an Amazon item back? You can drop it off at Kohl's, Whole Foods, or the UPS Store. FedEx and UPS have stores that accept returns, but those aren't your only options. Return a gift with a FedEx label by dropping it off at Walgreens, Walmart, Target, or Office Depot. Leave UPS packages at Staples, CVS, or Michaels. Using the post office? The USPS makes it a snap to schedule a free pickup through the web or app. In every case, you'll want to check the maximum size and weight accepted. For example, Walgreens takes FedEx packages up to 55 pounds with a maximum size of 48x25x25-inches.
Shoppers should also read the fine print when it comes to restocking fees, which can still be applied during the holiday return season. It's best to check for bigger items, like appliances and TVs before buying. Best Buy, for example, will still keep restocking fees after the holidays on devices that require activation, like e-bikes, drones, and projector equipment.
Here's our rundown of retailers who are making it easy to add deals to your cart with hassle-free returns.
Amazon
During the holiday season, Amazon is extending its typical return window and allowing all items purchased between October 1 and December 31 to be returned until January 31, 2022. Just print out your free return label (or opt for label- and packaging-free returns, which allow you to hand over the item only at a store) through your Amazon account, and drop your package off at a local Kohl's, UPS Store, Whole Foods, or an Amazon Hub Locker.
Bed Bath & Beyond
You probably have four or five of triple B's (yeah, that's right) 20% off coupons around the house, which you can use online, but instead of a special holiday return policy, the retailer offers a fantastic year-round one. With a receipt in hand, you have 240 — that's right, 240 — days to return any items with their receipts. Seasonal items, like Christmas and Hanukkah decor, are the exceptions and are limited to Bed Bath & Beyond's 30-day return window.
Best Buy
Best Buy is extending its return window for most products during the holidays. Items purchased before January 2 can be returned until January 16. The only items excluded from this return window are those with a third-party contract — things like cell phones, tablets, and smart watches — as well as holiday decorations, and major appliances. If you're shipping a return back to Best Buy, you'll get a free prepaid label to print out at home.
buybuy Baby
In case you were unaware, buybuy Baby and Bed Bath & Beyond are owned by the same company so you can mix and match coupons. You'll have 90 days to return most items purchased here, both during the holidays and the rest of the year. There are, however, some exceptions to this 90-day period. All smart home technology products, seasonal items, holiday products, and air mattresses have a shorter 30-day return window. And all tech gear, like baby monitoring devices, will have 60 days to be returned.
Carter's
Carter's offers a year-round 90-day window, from the date of purchase, to return all new, non-worn items. But even after the 90 days Carter's still accepts returns, just not at the full purchase price. Instead, the company will exchange the item, offering you the value of its current price.
Costco
You don't have to be a warehouse club member to shop online. Costco has a generous return policy and you can take just about anything back at nearly anytime, sometimes without a receipt. One exception you'll want to know about this time of year: tech. If you're purchasing electronics this holiday season, you'll have 90 days to return them, and that rule applies to pricey TVs or smaller, less expensive digital cameras.
Home Depot
You can return most unopened merchandise within 90 days after purchase. The only exceptions are those Home Depot items with a shorter 30-day return window, including furniture, rugs, gas-powered tools and generators, and consumer electronics like TVs. If you've lost the receipt, they might be able to find the product using your credit card at the store. Schedule an online return through the website and set up UPS pick up at your house or drop the package off wherever UPS is accepted, like Staples.
Kohl's
Sure, you can drop off your Amazon returns at Kohl's – but shopping at this retailer means bringing gifts back is a breeze. You'll have up to 180 days to return items and get a refund. While premium electronics typically have a shorter window (just 30 days), these items get an extension and can be returned by January 31 if purchased during the holidays. You can return in-store or mail packages back. Only items that were delivered by freight are subject to a 15% restocking fee.
L.L.Bean
Another retailer that doesn't have a holiday return policy because their standard one is already pretty great. With a receipt, you can return any item within one year of purchase to L.L.Bean.
Macy's
Macy's allows returns either by mail or in-store within 90 days of purchase. It's free to make these returns, and there are no shipping fees, either. However, during the holidays, that 90-day window is extended and returns are accepted until January 31, 2022 for all items purchased October 5 through December 31. Just remember that shipping and delivery fees aren't refundable. Additionally, while special items like electronics and fine jewelry do fall under the extended return window, all Apple products and accessories must be returned within 14 days of purchase.
Nordstrom
One reason Nordstrom has such a dedicated fan base? An impressive lack of a formal return policy. Nordstrom handles returns on a case-by-case basis, and there's no time limit. The store is known to accept returns without receipts, even if it's been as long as a year (or more) since the purchase. And it's simple to make a return. Nordstrom allows curbside returns at store locations, in-store returns, and mail returns that don't require a shipping label, just a USPS QR code.
Old Navy
Old Navy offers a 45-day return window on all items purchased. You can bring items to your nearest Old Navy store or send them back using the included prepaid return shipping label that is packed with your purchase (if you ordered online). For extra convenience, you can even schedule a package pickup if your label is a USPS shipping label or drop off your FedEx or UPS packages at local spots like Walgreens and Staples.
Target
Target's typical return policy is already great, giving you up to 90 days to return just about anything you've purchased. But during the holidays, you'll be able to take advantage of an extended return window on electronics, entertainment products, and other items that have a shorter 30-day return window. Just about everything, except for Apple products and other certain electronics, is extended to 90 days.
Walmart
All items with a 90-day return window purchased through Walmart during the holidays can be returned up until three months after the date of purchase. Additionally, items that typically have a 15-day or shorter return window will get an extended 90-day window if bought between November 1 and December 25. Digital cameras, GPS devices, portable video game players, air conditioners, dehumidifiers, and other electronics typically carry a 15-day return window. Walmart also allows you to download a QR code and use FedEx pickup for some returns, meaning you don't even need a return label.
Every product on Fatherly is independently selected by our editors, writers, and experts. If you click a link on our site and buy something, we may earn an affiliate commission.
This article was originally published on