Score These Major Lego 'Star Wars: The Rise of Skywalker' Deals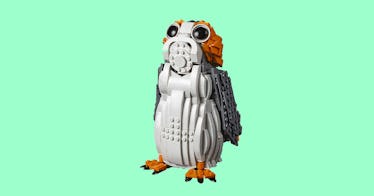 Legos are not cheap. So we get pretty giddy when we find some solid Lego deals. And we get especially excited when we see coveted Lego sets on sale. We're talking Lego Star Wars sets, Lego Architecture sets, and Lego Marvel sets. Oh, let's throw in some Frozen 2 sets and some Lego Jurassic World sets, too. Happy building.
Lego Deals: Star Wars
It has spring-loaded and trigger-activated weapons, a Rise of Skywalker-specific color scheme, and five, count 'em, five included minifigures including Zorii Bliss, complete with golden helmet.
Want two ships in one set? Then you want the Pasaana Speeder Chase. In the transport speeder, Rey and BB-8 try to escape from a First Order Treadspeeder with a driver and trooper. For kids who like races, it's the best Lego Star Wars set since Anakin's podracer.
This killer raider model includes four Star Wars minifigure characters: The Mandalorian, Cara Dune and 2 Klatooinian Raider, plus three blaster rifles and a blaster. That's enough for any Jedi.
This ultra-detailed Snowspeeder ship even comes with a Lando Calrissian minifigure with a display stand. The Snowspeeder itself features laser cannons, spring-loaded shooters, stud shooter and a harpoon.
To celebrate two decades of collaboration, Lego has brought back a classic machine from the original trilogy. This 250-piece kit, aimed at kids six and up, includes the Walker, dwarf spider droid, four minifigures, and a "trench section" set piece to recreate the classic cold-weather assault scene.
One of the most memorable characters from The Last Jedi is now available with this seven-inch-tall Porg. The 811-piece kit is a harder build than inanimate kits, so children nine and up are best suited for this set. Once completed, press on the tail to make the mouth gape and the wings flap. A Porg fact plaque is also included for display.
Do we really need to justify the purchase of an X-Wing ? Luke Skywalker and the Rebel Alliance's legendary attack fighter is comprised of 731 pieces and includes two minifigures (including Skywalker himself), along with two R2 droids. Push a lever and its wings shift from together to the attacking "X." It's best for ages eight and up.
Lego Deals: Frozen 2
We like this jewelry box Lego set because it's not too gag-inducing princess-themed. Plus, kids can store their treasures in it, and it includes a mirror, drawer, and lock. It's a wintertime activity worthy of the film.
Kids play with Anna, Olaf and Mattias, while they explore the enchanted forest and discover mythical ancient stones. There's even a zip line and a flying fish toy function.
Lego Deals: Marvel and Avengers
The 524-piece Iron Man Hall of Armor set comes with five different Iron Man suits and an Outrider. Kids can take apart and rearrange each module to their heart's content while also swapping out the minifigures in the rotating podium with robotic arms. There are also tons of different accessories inspired by Endgame. Think a jet pack, wrench, radar dish, and fire extinguisher: all stuff you'd find inside any Stark Industries lab.
Great for kids seven and up, this set pays homage to Spider-Man and is new for 2019. You get MJ, Peter Parker, Mysterio, and Hydro-Man, along with a buildable base and a rat figure. Because rats live in the enclosed under sewer, of course.
Not only do you get a working bike, but wait for it: The blasters are detachable and Captain America is wearing his brand new helmet.
Lego Deals: Jurassic World
Best for kids eight and older, this very cool set hooks kids up with the Indoraptor and Velociraptor figures from Fallen Kingdom. If they're into dinos, this is the set for you. That's because Blue does battle with the enemy dinosaur to save the Owen, Claire, and Maisie.
In this Lego Jurassic World set, kids can use the Lego chopper to locate Blue, the last surviving Velociraptor. This set is great for kids seven and older, and of course, works with all other Jurassic World sets.
A fairly straightforward Jurassic World set to build, this one is ideal for kids six and up. Kids are part of a lightning-fast pursuit to help Owen and the tracker save the Pteranodon.
Lego Architecture Deals
C'est magnifique. This set features the Arc de Triomphe, Champs-Elysées, Tour Montparnasse, Grand Palais, Eiffel Tower, the Louvre, grass and tree areas and a decorative Paris display plate to show off your creations. It's best for kids 12 and up.
Again best for older builders, this glorious tribute to the Big Apple features the Statue of Liberty, the Flatiron Building, the Chrysler Building, the Empire State Building, and One World Trade Center.
Every product on Fatherly is independently selected by our editors, writers, and experts. If you click a link on our site and buy something, we may earn an affiliate commission.