The WiFi-Enabled Traeger Timberline Turned Me Into a Grilling God
The app-controlled Traeger Timberline is one brainy barbecue.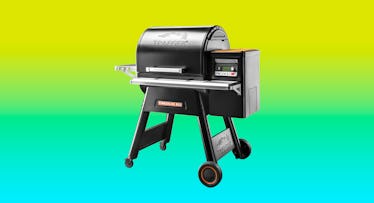 Humans have been grilling meat since a group of homo erectus accidentally dropped a mammoth hunk on their campfire two million years ago. And while the basic equation Meat + Fire = Good remains the same, the apparatuses keep evolving. Modern barbecues now allow us to exercise neurotic level of control over our fire-cooked feasts. One of the best examples of this is the Traeger Timberline, a Wi-Fi enabled wood-pellet you can control from your phone. I've been using it for nearly a year and am obsessed. Now, is it barbecue blasphemy to use such a teched-up rig? To some purists, yes. But as far as that is concerned, the Timberline is the best grill I've ever used.
Treager specializes in wood-pellet grills that do double duty as both smokers and traditional grills. I've used Traegers before, and the convenience in even the basic models is ridiculous: turn it on, set the temperature, and put the meat on for as long as it needs. The Timberline steps up the tech game by letting you control the whole rig via your phone through WiFi. You can change the temperature, set timers, and even choose custom grill cycles for your favorite recipes.
The Timberline comes with either 850 or 1300 square inches of grilling space, so you can cook up a damn feast. It has a three-tiered cooking surface, so you can separate the tofu burgers from the people food (kidding), and the double-wall steel build not only insulates the interior to keep temperature consistent, but also makes the whole structure tough as hell. You could probably drop the who damn thing down a flight of stairs and it'd still smoke a rack of ribs with no problem.
While hanging out outside drinking a few beers while you grill is the ideal, there's something to be said about sitting in your air-conditioned living room playing Call of Duty until your phone tells you that your food is done cooking. Which is exactly what the Traeger allows. Sync your phone with the grill's Wi-Fi, select a few settings, and the smart grill's natural hardwood pellets are automatically fed into the fire pot for a steady burn. You can raise or lower the heat using the app, which puts you in control of the heat source and the grill's "TRU Convection" system, which is more or less an induction fan that generates a delicious vortex of heat and smoke. It's all as simple as can be.
The food coming out of this bad boy is spectacular and, because it makes food prep simple and quick, it's become a huge part of our healthy lifestyle. The convection shape cooks meat quickly and evenly, so my wife and I get a week's worth of meals done in under an hour. I've grilled a dozen marinated chicken thighs along with a dozen servings of veggies in about half an hour without worrying about space.
Lastly, but certainly not last, the Timberline is simple enough to make a novice griller look like a boss in front of his peers and family. The app is loaded with simple and specific recipes for just about any animal that we can legally eat, and takes the guesswork away from grilling in such a way that I've established dominance as the neighborhood grill master. Neighbors aren't bringing me offerings of raw meat on a weekly basis. But I'm sure they soon will.
Every product on Fatherly is independently selected by our editors, writers, and experts. If you click a link on our site and buy something, we may earn an affiliate commission.
This article was originally published on