The Best Gifts For Expecting Parents
Looking for a gift for your expecting friends? Try one of these 14 essentials — overlooked tools that every new parent will need.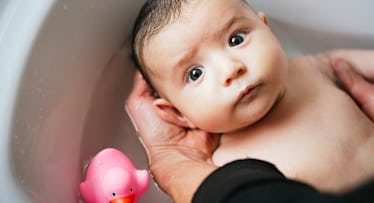 The following was produced in partnership with our friends at Mustela, whose products have been protecting baby skin for more than 60 years.
Expecting parents have a lot on their minds. From deciding on nursery colors to figuring out how to raise a crying, breathing, squirming, needy human child, becoming a new parent is overwhelming. It helps when friends give a hand by gifting crucial tools that the parents forgot to buy — or didn't know they needed in the first place. When they're in the thick of it with wipes at the ready, soothing lotion on hand, and that cleansing gel doing its thing, they will sing your praises. Here are the best gifts for expecting parents any new dad or mom would appreciate.
This collection of skin care essentials from Mustela, includes four safe and natural bath time favorites: a cleansing gel, bubble bath, body lotion, and the ultimate newborn hack: micellar water. This multi-tasking cleanser contains microscopic oil molecules that latch on to dirt and grime and hydrate the skin. And did we mention there's no need to rinse?
Why you should buy it: Every parent runs into that moment when they are on-the-go and baby makes a mess that no wipe can handle. If they're lucky, they'll be carrying a no-rinse micellar water like the one in the Bathtime Essentials Set. Once home, they'll also be set with a gentle bubble bath, a cleansing gel that cleans hair and body, and a post-bath lotion that protects baby's fragile skin with plant-based ingredients including Mustela's patented ingredient Avocado Perseose®. An added bonus: the decorative packaging makes it giftable as-is.
This dishwasher-safe spout cover adjusts to fit over most bathtub spigots to cover up sharp edges and make bath time that much safer.
Why you should buy it: Take it from us, your child will at some point accidentally bump their head against the faucet. To avoid turning this into a traumatic event — a cry-fest or worse — a simple cover is a totally necessary gift for expecting parents.
This ultra-absorbent natural sea wool sponge is designed for a baby's sensitive skin and will last far longer than your average bath sponge
Why you should buy it: Don't get us wrong, washcloths are essential — that is, when they're not in the hamper. This sponge is self-cleaning, so it's one less thing to launder and the go-to when you need to do laundry.
These non-skid bath kneelers protect your knees while you bathe your baby.
Why It's Clutch: Sure, you'll look a little silly next time you give a bath, but it's better than sore knees or a stack of rolled up towels.
These cotton velour hooded towels are soft, absorbent, and, yes, cute.
Why you should buy it: Babies get cold the second they're out of the bath, so be sure to cover them quick. You might as well do it with a wrap that doubles as an animal costume, for more play time as their spirit animal.
These soft and durable cotton terry fabric washcloths are a must for all expecting parents.
Why It's Clutch: Take it from us, new parents misplace everything, washcloths included. Fortunately, this pack of soft and durable washcloths comes in a pack of 12.
This floating tugboat also doubles as a water pitcher.
Why you should buy it: There's only so much space in the bathroom for toys — which is why they should do double duty, like this floating boat that will also help you rinse the suds from her hair.
These tablets turn every bath into a science experiment by transforming the bath water to (a stain-free) yellow, blue, red, or a combo of colors with dissolvable tablets.
Why you should buy it: Not all kids like baths. In fact, all kids dislike baths at some point — which is why it's crucial to make it fun in any way possible. That's where this gift comes in.
Get expecting parents ready for those spontaneous baby messes with a pack of wipes, hair and body wash, and body lotion. All three of Mustela's items are formulated with Avocado Perseose®, a patented ingredient developed by Mustela that protects baby's skin from day one.
Why you should buy it: Stop cleaning up baby with a booty wipe. The wipes (a winner of the Allure Best of Beauty Seal), wash, and lotion are all clinically proven to give baby's skin the moisture it needs, all while keeping them clean.
Did you know that 1 in 5 children suffer from eczema? Proper eczema care means better sleep for both the babies and for the parents. This cleansing cream, balm and moisturizer trio combats and soothes flare-ups.
Why you should buy it: Eczema is very common in the winter, and it's triggered by dry skin, irritation, heat, sweating and allergens. Don't let it become a problem and help your baby sleep like one with this bundle, which instantly relieves discomfort and is fragrance-free.
This smart tub that removes dirty water and keeps all incoming water at the temperature you choose.
Why you should buy it: Think a built-in digital thermometer is overkill? Think again. Your baby is wildly sensitive to temperature changes. This tub solves your worries.
Make your baby happy by removing their mucus with ease.
Why you should buy it: The Nose Frida is the weirdest most gimmicky-looking product out there for kids (you suck out boogers with a straw? really?). Here's the thing: It works. And you'll soon swear by it.
Flush out snot from your infant's nasal passage. What better gift for expecting parents?
Why you should buy it: The top pediatrician recommended saline spray is completely drug-free with no side-effects.
This cleaner scoops out snot or wax build-up with soft rubber ends. It's the perfect gift for expecting parents.
Why you should buy it: For stuffed snotty noses, you turn to the Nose Frida; for the more stubborn boogers and waxy ears, there's the Oogiebear. New parents need both tools — no way around it.