The Secret to Getting Rid of Grey Hair Gradually
Is getting rid of grey hairs as simple as switching your shampoo? A new product from Just for Men does just that.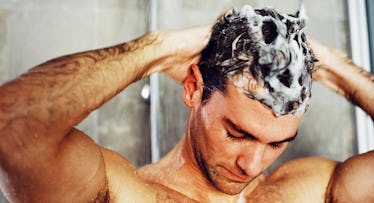 The following was produced in partnership with Just For Men. With Control GX Shampoo, gradually reducing your grey is as easy as, well, washing your hair. Use as you would your regular shampoo until you like what you see. Shampoo in. Rinse out. Move on.
There is zero shame in having grey hair. (Or no hair at all.) That said, there's also no reason you have to have grey hair if you wish you didn't. And certainly no reason you should feel forced to make a trip to the salon for a $100-plus, hours-long dye-job.
One of the fastest-growing — and most cutting-edge — trends in grey-reduction right now comes from Just For Men®. The company's Control GX, eight years in the making, is the world's first-ever gradual permanent hair coloring in a shampoo. Shower, shampoo, get rid of grey hairs — it's now that easy.
"This all started almost a decade ago. We kept hearing from guys who wanted to get rid of their grey hair, but didn't have time for a bunch of extra steps in their daily regimen," says Ralph Marburger, vice president of marketing. "We asked them what it would take for them to dye their hair, and they told us if it was part of their already established routine — like showering — they'd do it."
Unfortunately for Marburger, such shampoo technology didn't exist: It was thought to be impossible to put permanent dyes into shampoo. So he took the project to Jack Massoni, senior director of research and development for Just for Men. "He asked, 'Can we do this?' and I told him, not yet, but we can try," says Massoni. That was nine years ago. The fruits of their labor paid off eight years later with the launch of Just for Men's Control GX, a first-of-its-kind shampoo, boasting two patents, a Product of the Year nod from the largest consumer-voted award for product innovation*, and a whole lot of testing packed into a formula that gradually adds color to grey hair with every wash.
How It Works
Control GX surrounds dyes within the cleansing molecules to protect the dye when it is in the bottle, then it uses oxygen from the air to activate the pigment when the shampoo is massaged into the hair, delivering permanent grey reduction. The clever innovation has earned the product a "smart shampoo" moniker, as it allows the user to customize his degree of grey based on product usage.
"I think a big reason for our success is that guys want to be able to control the coloring process, and this accommodates that wish," says Marburger. "One of the best things we've heard from customers is, 'I started using the product and no one noticed.' Men will say, 'People began complimenting me, but no one asked about my hair because the change happened so gradually.' That's our aim here — get rid of as much or little grey as you want, in a subtle process that doesn't call out dyeing your hair. People notice you look better, but they can't put their finger on why."
How to Use It
For the first week, swap Control GX in for your regular shampoo at every washing. Much like your regular shampoo, Control GX has a thick lather as well as gentle cleansing and conditioning. Where it differs is in its ability to gradually reduce your grey hairs. Once you achieve the color that you want, alternate with your regular shampoo a few times a week to maintain the look. Bonus: Because you are reapplying the dye every time you shampoo, you will not see a color line as your hair grows out the way you would with conventional coloring.
If you change your mind about the color, or want less of it, simply use the shampoo once a week or once every other week, and you will gradually return to a grey-er state. "We've found that the degree of color men choose depends on their age and the type of hair they have," says Marburger. "Most guys want what's age appropriate and looks natural." And now you don't have to leave home to get it.
*Survey of 40,000 people by Kantar TNS. Winner Men's Hair Care category.