The Pool Float Is Basically a Big, Comfy Bean Bag Chair for Water
If you haven't sat on a bean bag chair since the '90s, you're going to want to check out this comfy pool float.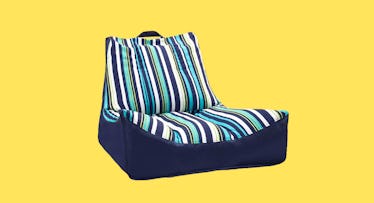 It's impossible to really "sit" on a bean bag chair. Whenever you plop yourself down on one of these sacks of pellets you end up in a position closer to laying down than sitting up. They basically force you to relax, which is why floating around the pool in a bean bag chair is such an enticing concept.
That's why we dig the Kai Seat Lounges from Pottery Barn. Instead of the vinyl that was typical of bean bag chairs in the '90s, these have Sunbrella, a proprietary marine fabric that resists stains and fades, so you don't have to worry if you spill your daquiri or leave these things sitting in the sun while you take a dip.
See more: Best Pool Floats
Each Kai Seat Lounge is four a half feet deep, just over two feet wide, and 17 inches tall. They're sturdy enough to support up to 300 pounds, and you can use them in the backyard pool or on the lake.
Of course, a bean bag chair that comes in three different fairly muted colors isn't quite as flashy as most of the other floats we've featured. But what they lack in eye-catching design they make up for in comfort. And when you're more concerned with relaxing on the water than doing it for the 'gram, comfort is all that matters.
Not into Pottery Barn? There's also Big Joe's captain chairs, which we also like. First off, you don't inflate them. Secondly, they have a built-in handle so you can easily tote it around. Finally, they're comfortable as all get-out. The chair is sizable, clocking in at 40 inches in length, 36 inches in width, and 28 inches in height. You never have to inflate or deflate it, because it's filled with buoyant Megahh beans.