The PlayStation Classic Is Coming to Fulfill Your Retro Game Fantasies
Move over, Nintendo: Sony is getting in on the retro game craze in a big way.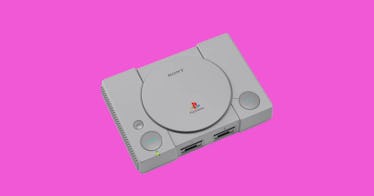 Nostalgia sells, and video game companies know it. Arcade games and a ton of different consoles have gotten the re-release treatment, their relatively simple tech easy and cheap to manufacture and sell. The runaway success of such systems as Nintendo's NES Classic made it all but inevitable that Sony would get in on the action. Well, they finally have, with the announcement of the PlayStation Classic.
The PlayStation Classic is a facsimile of the original console: same dull gray color, button layout, and classic rainbow PS logo printed on the top of the machine. The most noticeable difference? It's 45 percent smaller.
Like its Nintendo counterparts, the PlayStation Classic eschews the disc-based games of the original for pre-loaded classic titles, which Sony is calling 20 "generation-defining" games like Final Fantasy VII, Tekken 3, Ridge Racer Type 4, Jumping Flash and Wild Arms. Cleverly, you press the "OPEN" button to change the virtual disc and "RESET" to suspend the current game.
The console comes with two wired controllers that plug into the front of the console. It uses a virtual memory card for saved games and connects to your TV through an included HDMI cable. For some reason, you'll need to supply your own power adapter to plug the included USB cable into.
The PlayStation Classic hits stores on December 3 with a retail price of $100. If past is prologue, you should expect these things to sell out quickly. If you want to make sure you get one right when it comes out, you should pre-order one on the Best Buy website today.
This article was originally published on