The Nerf Elite Titan CS-50 Is the Big, Bad, Battery-Powered, Barrel-Spinning Blaster of the Year
One day we might get tired of massive motorized Nerf blasters, but today is not that day.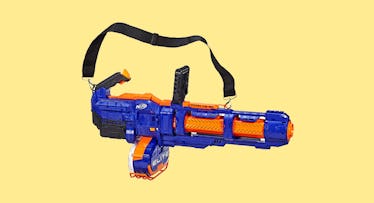 Nerf blasters have been around since the late 1980s, and somehow the company keeps coming up with new ideas for the toy gun that remains delightfully simple in concept. Case in point: The Nerf Elite Titan CS-50. Whether you're shopping for an 8-year-old or an 18-year-old, this blaster will be a—for lack of a better word—hit.
Even before you pick it up, this Nerf gun is impressive. It's over three feet long, with a massive dart drum that's almost 16 inches wide, making this thing a behemoth in two dimensions.
To hoist its 2.2 pounds, there are two handles—one in the rear and one roughly at the midpoint of the barrel—and an included shoulder strap so kids' arms won't get too tired when they're running around with this blaster. Which they will do. A lot.
The trigger is located on the rear handle, and wisely there is a cover that you have to flip up before firing. Once kids start blasting, the barrel rotates—a feature they're sure to love, because it's awesome—as they mow down their enemies with Nerf Elite darts. Fifty darts are included, which just so happens to be the capacity of the drum itself.
Like all of Nerf's high-end blasters, this one is fully motorized. The CS-50 runs on four D batteries, which unfortunately are not included.
Also unfortunate? This thing has yet to hit the market. It's scheduled for release on October 3, but you can preorder it on Amazon now. It will retail for $100, which is a hefty chunk of change, but far from the most expensive Nerf blaster we've seen.
But though we're loathed to admit it while it's still tank top season, the holidays are coming. Nerf blasters are rarely a bad move, and if your kid is ready for a super-powerful foam firing machine the Nerf Elite Titan CS-50 looks worthy of your consideration.
Every product on Fatherly is independently selected by our editors, writers, and experts. If you click a link on our site and buy something, we may earn an affiliate commission.
This article was originally published on