The Most Popular Droid In The Galaxy Is Now $130 Off
It's almost like holiday shoppers pulled a Jedi mind trick on AT&T.
by Dave Baldwin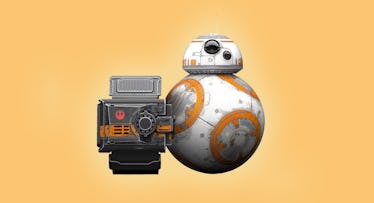 Two new rolling, bleep-blooping Sphero Star Wars droids might have hits stores this month in honor of The Last Jedi ⏤ R2-D2 and a dark-side BB-9E ⏤ but that doesn't mean Poe's loyal Astromech BB-8 is heading to a Sandcrawler anytime soon. If anything, it means holiday shoppers will likely find some great deals on the now two-year-old rolling robot. And if you're jonesin' for one to roll around your home, AT&T is selling it and a Force Band for $100.
Here's why the deal is so attractive: Sphero's app-controlled BB-8 droid ⏤ which stands 4.5-inches tall, hits speeds of 4.5-mph, and can be programmed to autonomously patrol the galaxy and/or kitchen ⏤ runs $150 on its own. AT&T, however, is bundling it with the $80 Star Wars Force Band, which fastens to your wrist and allows users to control their droids with the wave of a hand. The Bluetooth-enabled band also includes combat training exercises for blasters, lightsabers, and even the Force itself. While the updated version of BB-8 features a new Holographic Droid Trainer that allows the droid to "roam iconic ship interiors and memorable locations from the Star Wars saga."
Sold separately, you're looking at $230 all in. AT&T is slashing the price considerably by selling them both for $100 total. There's no end date on the sale, and you don't even have to be an AT&T customer ⏤ just a smart parent whose Jedi powers include tucking Christmas gifts away in the attic long before the holiday rush.
This article was originally published on