The Meal Delivery Service Built to Make Parents' Lives Easier
Parents struggling to feed their kids healthy meals need look no further than Nurture Life.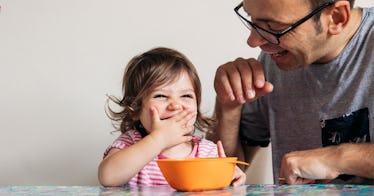 This story was produced in partnership with Nurture Life, the meal-delivery service that provides meals for each age and stage of a child's development and grows with our families.
Every parent wants to feed their children nutritious meals. If only it were so simple. Long workdays, hectic schedules, and regular house upkeep — not to mention picky eaters who want pizza for every meal — can make preparing wholesome lunches and dinners for the kiddos a tall order.
The answer, usually, is fast food — or at least food that you can prepare quickly. While there's nothing wrong with boxes of mac 'n' cheese or grilled cheese and soup, they don't pack that nutritional punch you want your kids to get most days of the week.
What busy parents could use is a meal that is designed for kids' nutritional needs, offering the kind of variety parents, kids, and nutritionists can get behind, and is delivered in a neat little package on the regular. This ideal meal service looks something like Nurture Life. The Chicago-based company crafts ready-to-eat meals that are perfectly portioned and nutritionally balanced to meet each age group's dietary needs. Every recipe is created by a chef, analyzed and approved by a pediatric dietitian, and made with wholesome ingredients.
Additionally, Nurture Life uses organic and locally sourced ingredients whenever possible; all produce and whole grains are organic, and meats are always antibiotic- and hormone-free. Their meals never contain peanuts, tree nuts (except coconut), shellfish, artificial colors or flavors, trans fats, or high fructose corn syrup. In other words, it's the kind of meal a parent doesn't have to second-guess or watch out for the fine print. (Parenting tip: Always read the fine print.)
"Our goal is to provide wholesome, great-tasting kids' meals delivered direct to your door," says Rachael Janas, Nurture Life's registered dietitian, who reviews every item and builds the menus. "We hit home on nutritional components and convenience — two things parents really appreciate."
How the Meals Are Made
Many Nurture Life meal concepts come from Greg Sterzel, the company's research and development chef. His 16 years of experience in the restaurant industry help to inspire the meals, but many of his ideas come first from coworkers — especially those who are parents with babies and young kids — and, importantly, customer feedback.
"We have a rating system that lets customers rate our meals right away," Sterzel says. "I pay a lot of attention to this, digging into parents' feedback and figuring out what they want. Also, I think back nostalgically to what grabbed my fancy as a kid. My job is to try to make these dishes healthy no matter how unrealistic that sounds."
Take your traditional spaghetti and meatballs, a childhood staple for many families. Nurture Life's version swaps in whole wheat rotini and pasta sauce packed with seven veggies and, a kid favorite, homemade chicken meatballs. They even add a side of broccoli and cauliflower for an added vegetable serving.
Here's how Nurture Life defines healthy: Each meal must fit within the Nurture Life guidelines that have a minimum and maximum level of calories, total fat, saturated fat, salt, fiber, protein, and sugar per meal for each specific age group. Additionally, all meals must include at least one serving of vegetables (although most have more than that), not counting starchy vegetables such as potatoes. To develop these standards, Nurture Life considered the nutrient ranges set by the American Academy of Pediatrics, the food categories recommended by the USDA's MyPlate, and general clinical nutrition knowledge.
To turn a traditionally unhealthy kid favorite into a Nurture Life–approved dish, Sterzel does a ton of tweaking in the production facility. Take his Chicken Noodle Stew, an idea that came from customers and that Nurture Life rolled out this fall. "Traditional chicken noodle stews are often very oily and the salt content is extremely high," Janas says. "Usually, they are made with a processed flour noodle and don't have very many vegetables. To make a dish like this healthier, Greg takes a first pass at it out of instinct. For instance, he knows how to get in more fiber — by using whole-wheat pasta — and make the flavors pop with less salt."
Next, Sterzel will run a recipe through Nurture Life's software program, which calibrates the nutritional content to see where the dish lands. "Once I get definitive numbers, I can make adjustments such as moving the salt content up or down or adding more veggies," he says. "The next step is to make sure the dish tastes how I want it to. Nothing leaves here if it doesn't taste great."
Janas praises Sterzel's knack for creating familiar flavors with ingredients that are unfamiliar to children. For example, his Chicken Noodle Stew has a hint of curry powder to bring out the chicken flavor instead of using salt. The curry is subtle, Janas says, so as not to put off kids, while at the same time introduces young palates to a new flavor. Similarly, Nurture Life's Minestrone Stew uses rosemary, the Pizza Strata features basil and oregano, and Tofu Bibimbap relies on garlic and ginger and uses sunflower seed butter to provide an alternative nutty flavor instead of peanuts or tree nuts.
The Nurture Life team puts just as much diligence into its baby foods. Stage 1, designed for babies 4 months and up who are just starting on solid foods, includes nutrient-dense, single-ingredient fruit, vegetable, and legume purees. Stage 2 (8 months and up) introduces more adventurous purees made with combinations of produce, whole grains such as quinoa, and proteins such as chicken and beef. Stage 3 meets the needs of tykes 10 months and older, who are beginning to feed themselves, with foods chopped big enough for clumsy little hands to pick up but small enough to not be a choking hazard. At this stage, Nurture Life combines the veggies, lean proteins, and whole grains into balanced meals and introduces more complex flavors.
Choices, Choices
To ensure children get ample variety in their diets, Janas assembles Sterzel's entrées into menus that constantly rotate and reflect the seasons. "At Nurture Life, we are really serving a whole variety of babies, toddlers and kids, including picky eaters, at many points in their lives and working to give them what they need," Janas says. "I look at the recipes Greg has formulated and focus on ingredient integrity — making sure our labels are true to form and major food allergens are properly declared. Then I design the meal plans we send to customers each week for balance."
If you want to keep it super easy — and your child isn't overly picky — you can opt for the Chef's Choice menu, which changes weekly. Or, if you know ahead of time you want to choose specific meals for your toddler or kid, there are always a dozen to choose from, including the Vegetarian, Seasonal, and Favorites Menus. These include several gluten-free and dairy-free options. "You can substitute meals in and out, flip-flop meals on one menu for meals on another — there really are no rules," Janas says.
Currently, Nurture Life delivers to most of the continental U.S. and is expanding quickly. The other nice aspect of Nurture Life is you don't have to stick with the program consistently. So if you know one particular week you'll be out of town, you can skip that week and start up again when you're ready for more nutritious, delicious, and convenient meals.
"We are proving that easy food doesn't have to be bad for kids," Sterzel says.
If you're interested in trying this nutritious and convenient mealtime solution, use code: FATHERLY to save $30 on your first Nurture Life order.
This article was originally published on