The 9 Coolest Products From The Country's Largest Kids' Expo
Yep, there's even a shirt with a built-in baby carrier.
by Dave Baldwin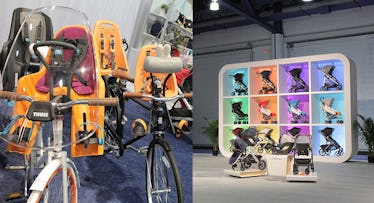 As you are well aware from strolling your local big-box baby store, there's no shortage of kid gear out there designed to make your life as a parent easier (it's not called the Baby Industrial Complex for nothing). Now imagine 50 of those big-box baby stores, all in one spot. Every fall, the ABC Kids Expo takes over the Las Vegas Convention Center as thousands of exhibitors — from industry heavy hitters to up-and-comers you might recognize from Shark Tank — showcase the latest and greatest in baby and kid gear from across the globe. Thousands of products were on display. These are the 9 coolest.
Kizingo Toddler Spoon
If the mess under your kid's high chair takes longer to clean up than the actual meal itself, it may be time to try something new. The Kizingo spoon was designed by a nutrition expert to be gripped the way toddlers naturally hold utensils — palm down. Its short, patent-pending curved shape positions the shallower spoon bowl closer to the hand and facing the child, making it more likely that food hits the target rather than your hardwood floors. The sleek, mod-styled utensils are dishwasher safe, come in 10 colors, and will soon be available for lefties.
Kinbuilt Diaper Bag
Inspired by the good ole fashioned toolkit/medical bag, this manly diaper duffle from a San Diego-based industrial designer is made from rugged water-resistant nylon/waterproof tarpaulin and features a built-in changing pad, reflective detailing, and a ridiculous number of pockets for all of your baby organizing needs. Seriously — there are 20 pockets all told, including 2 insulated ones for bottles and even a quick-access compartment for your phone, keys, and sun cheaters. While it's still about 3 months from shipping, that shouldn't stop you from pre-ordering yours today.
Lalabu Dad Shirt
Because the best way to never forget your baby carrier at home is to, well, wear it everywhere you go, the Lalabu Dad is a stylish, slim-fit short-sleeve with a sewn-in kangaroo pouch. Not a joke. All you do is open the magnetic closure, slide your infant (up to 15lbs) into the pocket — "no wrapping, adjusting, or tying" necessary — and go about mowing the lawn. Or not. Either way, the mesh interior fabric promotes bonding and the head support adjusts as your baby grows. And depending on your level of self-confidence/tolerance for ridicule, when there's no baby in tote you can pretty much fill it with anything from snacks to grass clippings. It comes in black, gray, and blue and ships at the end of the month.
The Shrunks Trampoline Pools
Why clutter the backyard with a kiddie pool and a tiny trampoline (other than to show the neighbors how well you're doing) when you can wow your kids with this magical two-fer instead? On one side: a 50-inch indoor/outdoor mini-tramp that can bounce up to 100lbs; flip it over, though, and … bam! … an inflatable pool that can hold up to 3 kids (aged 2+) in over a foot of water. Young minds are blown; your afternoon watching the kids is covered. And lucky for you, they can't use the trampoline to jump into the pool.
The Brushies Finger Puppet Toothbrushes
Assuming you've not yet solved the riddle of getting your kids to brush their teeth (or even sit still while you do it for them), the Brushies are a family of soft silicone tooth brushes masquerading as finger puppet animals. Designed by 2 doctor-dentist/moms from Carmel, California, the set comes with 4 colorful characters (a pig, an alligator, a whale, and a monkey) and a fun board book for you to read and/or distract them with while you gently clean their chompers.
Project Nursery's parent + baby SmartBand
Think of this collaborative smart band from Project Nursery and Voxx Accessories as a FitBit for new parents. Not only does it track your steps, lack of exercise, and all the sleep you're not getting, but it also lets you digitally keep tabs on everything you're doing for your baby (but are too tired to remember to write down), like feedings, naps, diaper changes, medicines, etc. Simply enter it on the band and it syncs to your smartphone app. You can even set reminder alarms so you don't forget to not go to the gym. The battery reportedly runs a month between microUSB charges, and the band will be available in one of 3 colors — blush pink, white, and black.
Totokan OXii Nonwearable Breathing + Heartrate Baby Monitor
Few things are less fun as a new parent than the self-induced suffering that comes from endlessly staring at a video monitor in search of any sign that your baby is breathing. With Totokan's next gen non-wearable breathing monitor, however, you can get back to binge watching something other than your kid's nursery. Not only does the OXii stream 1080p HD wireless video to your smartphone and include all the bells and whistles you expect from a high-end video monitor (2-way talk, night vision, crying push notifications), but it also uses FCC-approved pulsing technology/radio waves to detect heart rate and breathing from only 3-to-6 feet away. And all without requiring your baby to sport a device that looks like those tags they put on expensive coats in department stores.
Skip Hop Tuo High Chair
No need to lug this high chair down to the basement once Junior graduates into a booster seat; simply unscrew the beechwood legs and the Skip Hop Tuo converts into a mod toddler chair that perfectly matches your living room's minimalist mid-century aesthetic. It also features a reversible seat pad, removable tray, and secure 5-point harness.
Laifa Baby Zippy Jamz Dual Zipper Sleep Sack
Ain't nothing worse then finally getting your kid ready for bed only to realize that ooops-they-crapped-their-pants and, guess who's starting the whole process over again? If they were wearing a ZippyJam, however, that diaper change would be a breeze. These sleepers feature an ingenious, patent-pending two-zipper design: one zipper runs from foot to collar for dressing, the other along the inseam for easy diaper access. Seriously, how has this not already been invented? They're made of organic cotton, use lined zippers that won't pinch, and are available in a number of colorful styles with fun names like Go Go Geometric and Sleepy Clouds.
More ABC Kids Expo coverage:
The Most Innovative Products From The 2015 ABC Kids Expo
This article was originally published on