The 9 Best Baby Products and Toddler Products Coming to Stores in 2018
From swiveling high chairs to soothing stuffed Sloths, last week's JPMA Show in Washington, DC, had it all.
by Dave Baldwin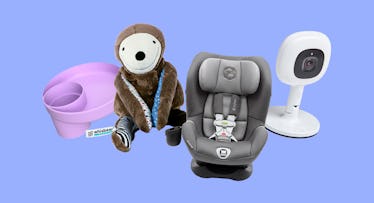 Last week, hundreds of companies that make baby and kids gear descended on the Walter E. Washington Convention Center in Washington, DC, for the Juvenile Products Manufacturers Association (JPMA) Baby Show. It's basically a sprawling showcase of future kids stuff. And, much like the competing ABC Kids Expo in the fall, the goal was simple: Show off thousands of new products from around the world aimed at making parenting easier. Such products as car seats with built-in strollers, UV bottle sterilizers, or vibrating sleep devices that put kids to bed for you. Not to mention all the basics like bottles, breast pumps, and 360-degree toothbrushes.
And while the sheer number of gadgets and gizmos can be overwhelming, JPMA is a great chance to score a sneak peek at all the new baby swag likely to grace store shelves this year. After two days spent walking the showroom floor, we found nine pieces of gear that deserve a spot on your radar.
What Type of Parent Are You? TAKE THE QUIZ!
Childhome Evolu One.80° Infant High Chair
Winner of this year's JPMA Innovation Award in the "Feeding/Bathing/Changing" category, the Childhome Evolu One.80° is a handsome Belgian beechwood high chair with a seat that swivels 90° clockwise or 90° counterclockwise (and locks in one of three positions) for easier feeding. Cooler still, it morphs into both a pint-sized toddler chair and a reclining newborn seat.
Thule Sleek
In addition to rolling out an updated version of the popular Urban Glide jogger this year, Thule also unveiled their first four-wheel convertible stroller, the Sleek. It's not cheap at $800, but it's both feature rich and true to the name. Not only does it offer 13 configurations ⏤ single, double, twin; car seats, bassinets, and front/back positioning ⏤ but it also has a telescoping handlebar, height-adjustable canopy and airless tires (8″ front, 11″ back). There's even a footrest to help toddlers climb aboard.
Travel Tray
A product so simple/clever that it's hard to believe it didn't already exist, the Travel Tray is an all-in-one plastic cup, snack, and toy holder designed to stop spills and keep kids organized. It's food/dishwasher safe, attaches to any car seat on the market with a drink holder, and comes in one of 11 colors.
Whisbear The Humming Bear/E-zzy the Sloth
New to the U.S. market from Poland, Whisbear is a line of cuddly smart stuffed animals (a bear and sloth) with a built-in pink noise machine and "CrySensor" that engages or disengages it. So, similar to the SNOO bassinet (but much, much less expensive), the Whisbear automatically kicks on when a baby starts to cry and stays on for 40 minutes to soothe them back to sleep, gradually increasing or decreasing the volume as needed. If baby wakes again, Whisbear fires back on. Both animals have rustling paws with magnetic closures (to latch to the crib) and are machine washable. The big difference between the two is that E-zzy the Sloth ($129) will sync with an app, can be programmed, and will provide cry notifications to your smartphone, essentially acting as a baby monitor without the actual noise. The Humming Bear is also already available for sale, E-zzy hits store shelves this summer.
SitAlong Toddler Luggage Seat
Invented by a flight attendant and pitched on Shark Tank as an alternative to ride-on toddler luggage, the SitAlong is a lightweight folding chair that attaches to any 20- to 24-inch roller bag and can seat a kid ages 8 months to 50 pounds. Better still, it's got a five-point safety harness and folds flat against the bag so it doesn't need to be removed to stow in the overhead bin.
Dry Baby Stain-Repellant Clothes
It's unclear why all baby clothing isn't water, stain, and odor-resistant but Dry Baby is just that ⏤ a line of fluorocarbon-free cotton baby clothes that repel spills, spit-up, and whatever other substances come in contact with your little person. It was developed by a former NASA-scientist, uses no harsh chemicals, and is certified CPSC safe. Dry Baby sells rompers, pants, and bodysuits (up to 24 months) and most feature fun illustrations of balloons, snails, rabbits, and rocket ships.
Humble Bee Free Spirit Diaper Backpack
Designed for active outdoorsy parents, this super lightweight diaper backpack from SoCal-startup Humble Bee is made out of water repellant ripstop nylon, weighs less than a pound, and rocks a handful of easy-to-access exterior pockets, including one with a hot/cold gel pack and large changing pad. They also sell convertible canvas diaper bags with hidden padded backpack straps.
Nanit Baby Monitor
First available for pre-order in the summer of 2016, the Nanit Baby Monitor is finally on the market and turning heads ⏤ it won an innovation award for safety at this year's show. It's a subscription-based smart video monitor that uses computer vision technology to track a baby's sleep patterns and provide parents with customized sleep tips (most of which are written by medical professionals). If you don't want the fancy insights/to pay the monthly fee, the Nanit is still a sleek HD WiFi monitor with night vision, one-way audio, and an LED nightlight.
CYBEX Sirona M with SensorSafe 2.0
Winner of this year's Best in Show Award, the CYBEX Sirona M is a smart convertible car seat with an integrated SensorSafe chest clip that alerts parents (via both a vehicle receiver and smartphone notifications) if a baby is accidentally left in the car or a child unfastens the buckle. It also offers side-impact protection, handy magnetic buckle holders, and 12 recline positions. It's for use from newborn to 65 pounds and is already on the market.
Every product on Fatherly is independently selected by our editors, writers, and experts. If you click a link on our site and buy something, we may earn an affiliate commission.