The Case for Printing Your Family Photos
Like most parents, you document your child's every move with your smartphone. It's time to make more of all those wonderful photos.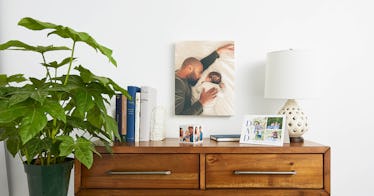 This article was produced in partnership with Walgreens. Learn more about the Walgreens App at Walgreens.com.
Modern parents are typically very good at capturing life as it happens — documenting family get-togethers, a child's first steps, holidays with members of the extended tribe. And yet, once those photos are taken, the vast majority of us forget about them. Sure, every now and again we scan through the big digital photo album. But somehow, it doesn't yield that internal sense of happiness we remember from when we were kids, poring over family photo albums during Thanksgiving, or marveling at the framed picture of Mom and Dad on the mantle, looking so young and glamorous on their wedding day.
Those printed photo albums have real benefits: Research shows that displaying images of family and friends has an effect on psychological well-being, especially when it comes to children. In one study, children who were given photos of themselves engaged in everyday activities and looked at them regularly had higher self-esteem than those who did not. Another report found that kids who grow up surrounded by family photos in their home have more confidence and a better self-image than those in photo-less households.
If the effort gone into making those albums is holding you back, let's be clear: printing photos has never been easier. With the Walgreens App, you simply tap on the Photos section, tap Prints and choose what you want to print from your device and you're done. There's even free Same Day Pickup and an ever-rotating selection of in-app deals for prints, cards, and a variety of canvas and décor products for your home.
Now that you've bought in, here are some ideas for making the most of your photos.
Photo Book for a Deeply Personal Gift
Along with a self-esteem boost, kids simply love looking at pictures of themselves (and their lives with you). Celebrate major family moments from the past year by giving your child a photo book. The albums from Walgreens come in three types. The Window Cover Photo Books and Custom Cover Photo Books are great for the epic bookshelf keepsake, while the PrintBooks, small, spiral-bound books, are just right for that stocking-stuffer memento.
Canvas Print for Your Wall
Even if you're the youngest dad on the planet, the fact that you have a child automatically means your mental capacity to remember is significantly compromised. Between feeding schedules, school pickups, and soccer games, details of important stuff, like what went down at your kid's birthday party, can get frustratingly fuzzy. You can turn a big moment into artwork with Walgreens' Canvas Prints, which include all the hardware you'll need to hang the picture on your wall.
A Photo Cube for a Workspace
Chances are your cubicle is not a stress-free zone. You can combat (some of) this with a well-placed photo cube that reminds you there is such a thing as weekends, vacations, and, that's right, your family. Walgreens offers a range of photo-driven decorations, from Wood Hanger Board Prints to 3"x3" Photo Cubes that allow you to display happy memories of your loved ones. Think of this as your chance to show your co-workers just how cute your kids are.
Holiday Cards for Friends and Family
Raise your hand if you've ever been overwhelmed by the number of people on your list that you need to send a card to every December. Fortunately, you can also create holiday photo cards with the Walgreens App. In the "Photos" section of the app, simply choose the card size, folded or flat, customized message, and number of prints. The app offers a variety of styles, so you can even create one version for family, and another for friends. Pick the photos you like best, then let friends and family swoon over your adorable kids' mug shots while you kick back and relax.