The Best 3-Sleeping Bags for Kids
Because a well-rested kid is a happy camper.
by Berne Broudy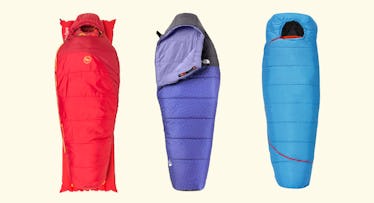 No offense to summer, but early autumn is the prime camping season. There are fewer bugs. Campfire ghost stories seem scarier because of the crispness in the air. And, most importantly, the family sleeps better because it's not 90 degrees and swarming with said bugs. But the quality of sleep a kid gets on a camping trip depends as much on the 3-season sleeping bag they crawl into than the temperature outside. Few pieces of gear are more integral to a young kid's enjoyment of nature — and you don't want to shove them into an adult-sized sleeping bag.
RELATED: The Best Family Camping Tents
It's worth investing in a kid-sized 3-season sleeping bag for a couple of reasons — the main being practical: for a sleeping bag to work and feel warm, the body needs to heat up the air inside it. If there's a lot of extra space in there, your body has more air to heat. And that can be hard for a little person.
ALSO: The Best Camping Gear And Equipment For Your Next Family Adventure
Currently, all the best kids 3-season sleeping bags are made from synthetic insulation, which is warm when wet and less expensive. But it's also somewhat heavier and bulkier. Most kids 3-season sleeping bags are rated between 15 and 40 degrees, which means that, so long you don't go camping in the middle of winter, you should be good.
MORE: The Best Family Camping Tents
That said, we sifted through the best 3-season sleeping bags for kids on the market and narrowed it down to five favorites ⏤ all of which are well suited for a range of outdoor activities from car camping, to backpacking, to a Saturday night stargazing in the backyard.
Big Agnes Wolverine 15
The warmest kids bag available, the Wolverine has all of the features of Big Agnes' acclaimed adult bags, just sized for tots, kids, and teens. The mummy-shaped 3-season sleeping bag has a contoured hood (with a single-hand operable cord lock) that follows the shape of the head for a more comfortable fit. The collar has a draft-free zipper and wedge to seal out frosty mornings. And the insulation is shingled throughout to prevent cold spots. Even better, an integrated pad sleeve on the bottom keeps kiddos from sliding off their pads at night.
Weight: 2 lb., 6 oz.
North Face Y Aleutian 20
Noth Face's Aleutian 20 Youth is one of the most versatile mummy bags we've seen. A full-length zipper reaches from the hood all the way around the vaulted foot box. The cube-shaped foot gives sleepers plenty of room to move without feeling restricted. And because the zip wraps around the bottom, in warmer temps, campers can fully unzip to turn it into a quilt. If your camper needs a little more freedom of movement or some venting on warmer nights, the Aleutian also has a secondary zip from the opposite side of the hood to the shoulder; open it to free the sleeper's arms. In fact, open both zips and you can create a foldable chest flap which makes it easier to read or play cards.
Weight: 2 lbs., 14 oz.
REI Nodder 25
Kids can be furnaces at night. This 3-season sleeping bag has long zippers on both sides to fully vent, making it useful even in warmer temps. Zips also turn the front of the bag into a quilt that retains warmth even if a kid is sitting up to play cards, read, or eating. Easy-to-operate Velcro tabs instead of a drawstring cinch the stretch mummy hood closed to trap warmth inside. And the stuff sack? Your kid won't lose it as it's sewn into the bag. Cooler still, if you slide the stuff sack over the bag's foot and cinch it down, it shortens the Nodder. Smaller campers can grow into it over time, and you don't have to buy a new bag every time they sprout a few inches.
Weight: 2 lb., 8oz.
Kelty Tru Comfort Kids 35
The best 3-season sleeping bag for a kid who flips and flops during the night, Kelty's Tru Comfort Kids oversized mummy bag has both a massive zipper that fully opens the bag and an integrated internal comforter. That way your camper can pick how many layers of blankets they want, and easily add more during the night. The oversized hood fits a standard pillow but also corrals jackets and extra clothes stuffed inside to serve the same purpose.
Weight: 2 lbs., 14 oz.
Slumberjack Cub/Kit 40
Simple, stylish, and affordable, Slumberjack's 40-degree rectangular Cub (boys) and Kit (girls) are designed for warmer nights. The 3-season sleeping bags have a cozy integrated pillow pocket, and a single full-length zipper provides access and allows venting. The zipper also wraps around the foot box so your child can also use this bag as a quilt. At only $45, it's the most affordable bag in the group.
Weight: 2 lbs. 6 oz.
This article was originally published on