The 12 Best Nerf Guns, Blasters, Bows & Attack Vehicles
From a five-shot crossbow to a 30-barrel Gatling gun, every blaster for your kid's Nerf armory.
by Dave Baldwin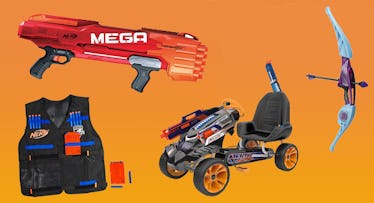 NERF
Who knew when Nerf launched its first foam dart way back in 1992 that it would become a toy revered by both kids and office workers alike. It's tough to find a more popular toy today, maybe Lego, than the Nerf gun. And as they've growing in popularity, so to have they grown in technical design and sheer number. At this point, there's not just a Nerf blaster for every type of person, there's seemingly one for every person, period. Hasbro makes a ridiculous number of these weapons in myriad different collections: the Mega, the AccuStrike, the N-Strike, the Modulus, the Rebelle, the list goes on. Some are meant to deliver pinpoint accuracy (well, as accurate as a foam dart can be), others blunt force. Others simply have a pink and fuchsia skin.
RELATED: 10 Questions With the Guy Who Designs Nerf Guns
But which ones are the baddest, most awesome weapons in the seemingly boundless Nerf armory? From a 30-shot Gatling gun to a Mad Max-styled assault big wheel to a sweet five-round crossbow, here are the best Nerf guns, blasters, bows, and attack vehicles we think hit the target.
Part of Nerf's post-apocalyptic series, the Judge blaster is a manual slide-action shotgun with a massive 30-dart barrel drum that looks like something a character in Halo would shoot. Cooler still, the darts fire in sets of threes. Which means ten shots and a much higher chance of actually hitting the target, even if you're not using Nerf's more precise AccuStrike darts.
Nerf's Modulus line was already about customization; it's designed to let your future gunsmith build the blaster they want/need from a bunch of different components. The new Regulator, however, takes it to the next level. In addition to mix-and-match parts, it also offers three firing modes ⏤ the first single Nerf weapon to do that. Simply, flip the switch and the gun toggles between single-fire, burst-fire (three darts at a time), or full-blown Rambo ⏤ a motorized automatic machine gun to clear the living room. The Regulator's clip holds 12 darts and the gun needs four 'C' batteries to unleash its fury.
Nerf Battle Racer
The Nerf Battle Racer by Hauck Toys is a four-wheeled mutant Bigwheel designed to let your kid go mini Mad Max all over the neighborhood. The Nerf accessory has two blaster mounting brackets in the front, two in the rear, extra dart storage, three-point steering, and a handbrake. Unfortunately, with a weight limit of 110 pounds, this junior combat Jeep cannot contain an overzealous dad.
Just like real firearms manufacturers, Hasbro makes a series of weapons targeted toward girls ⏤ the Rebelle line. And they're pretty sweet. The FocusFire Crossbow has a 5-dart spinning drum but fires one shot at a time using real crossbow action. It also has a flip-up site and uses AccuStrike darts to ensure you never miss.
Released this summer for kids ages 5-and-up, Nitro blaster is as much a spring-loaded gun as it is a tabletop launcher designed to hurl toy cars across the floor at high speeds. They load, cock, and fire just like every other Nerf gun you've ever shot — only difference is a safety mechanism that prevents them from discharging unless sitting on a flat surface. Which is good, because it means dad doesn't take a miniature Pontiac LeSabre to the face every time he walks into the kitchen.
After years of focusing on improving firing distance at the expense of precision and accuracy, the toy gun gurus at Hasbro have finally listened to the masses and created darts that actually hit the target, along with a series of blasters to fire them. The Alphahawk sniper rifle is the signature bolt-action weapon in the lot and includes a stock, pistol grip, and easy-to-load rotating drum that holds five darts.
Having the right Nerf blaster is only half the battle when you're trying to win a foam dart war. Quick access to said foam darts is the other. And that's where this best-selling tactical vest comes in, as it holds additional darts, clips, and even other guns so that you're never pinned down behind the couch with only pillows to throw.
Part of Nerf's build-your-own N-Strike Modulus blaster line, the battery-powered ECS-10 comes with a drop grip, ten-dart banana clip, and targeting scope. It can be built into over 30 different configurations and shoots up to 90 feet.
Possibly the most advanced way to shoot someone in the crotch, the N-Strike Elite Terrascout RC Drone Blaster uses a remote control with 720p HD streaming video to target and destroy the enemy. The Nerf gun can unleash 18 rounds of foam-dart fury and records the carnage on the included SD card. It can also be aimed independently from its driving direction — which means the ability to attack while retreating — something you learned from LEGO Napoleon.
In the ever-escalating arms race that Nerf is waging against itself, think of the new Mega Twinshock as less a Nerf weapon of accuracy than an instrument of blunt force. Essentially, it's a double-barreled shotgun that actually has 10 barrels. Plus, it's the first Nerf blaster that lets you control how you fire those 10 shots. Pull the trigger half way and it shoots a single dart. Pull it all the way back and the TS pops off two at a time. Or, straight hold the trigger down while you furiously pump that MF and go full rapid fire.
Another top release from Nerf's line for badass girls who like to go big-brother hunting is, simply put, a beast. The largest Nerf bow ever stands more than 4-feet tall and includes the line's first adjustable sight to help fire giant 24-inch composite arrows more than 100 feet with Everdeenish accuracy. It may be a while before toy stores are truly gender-blind; in the meantime, Nerf just gave every kid a reason to head straight to the girls' aisle.
Another blaster from the pinpoint-precise AccuStrike series, the FalconFire is your short-range specialist for close-quarter, room-to-room combat. It's a single-shot, top-loaded Nerf pistol that includes an integrated sight and storage for 2 additional darts.
This article was originally published on